High Profile Assassination Warnings Continue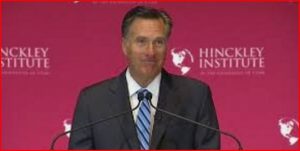 Mitt Romney at Hinckley Institute
Submitted by IWB, on July 30th, 2016
by Dave Hodges
Katy Whelan, the Health Reporter for The Common Sense Show, sent me an email last night in which she noted the similarities between the Romney's threatening speech directed at Trump, five months ago, and the release of John Hinckley this week, could not be just another coincidence. She could not have been more correct. Only an ardent coincidence theorist could not make these dire connections and subsequently come to the conclusion that Donald Trump is in grave danger.
The evidence is mounting that the criminal elite, who have hijacked our government, want Donald Trump dead.
Let me shout this proclamation from the highest mountain the following statement:
FIVE  MONTHS AGO, FORMER PRESIDENTIAL CANDIDATE, MITT ROMNEY, ISSUED A THINLY VEILED ASSASSINATION THREAT AGAINST DONALD TRUMP
Walk with me through the journey of discovery which will clearly demonstrate why Romney delivered his message to Trump in the manner that he did
An Innocent Revelation
Five months ago, I noted the odd "coincidence" between the attempted 1981 assassination of President Reagan, by John Hinckley Jr., and the backdrop of Mitt Romney delivering his blistering condemnation of Donald Trump this past week. Incredibly, while Romney was condemning Trump, he did so in the front of a moniker entitled "The Hinckley Institute".
The "smoking gun" background which served to deliver a very thinly veiled threat to Donald Trump.
Subsequently, I researched these connections between Ronald Reagan assassin, John Hinckley Jr., and the Hinckley Institute founded by Robert H. Hinckley. Robert H. Hinckley was involved heavily in aviation and politics. The Hinckley Institute of Politics was founded by Hinckley and still bears his name. And is there a connection? There are connections that will shake your sensibilities.
John Hinckley Jr.
Following Hinckley's shooting of Reagan, he was portrayed as a mentally ill wayward rich boy who attempted to kill Reagan to impress actress Jodi Foster. I never believed the cover story and I would suggest visiting this link in order to validate my concerns with this theory.
Both Robert H Hinkley and John Hinckley, Jr., are both descendants of Joseph Smith, the founder of the Mormon Church. The extent of the comparison is to note that they share the same extended family lineage.  There is no issue of concern, from my perspective, regarding the Hinckley Institute other than Mitt Romney's apparent misuse of the background moniker for which I will explain in later paragrpahs. However, there are many lineage coincidences between the various Hinckley's that come into play with regard as to why Romney chose the Institute to deliver his threat.
When it comes to Reagan assassin, John Hinckley Jr., there is much more than meets the eye, though his close and distant relatives list, in which Hinckley is related to the following notables:
Barack Obama                    JP Morgan                            Johnny Carson
FDR                                      Princess Diana                     Marilyn Monroe
Warren Harding                Allen Dulles                           Prince George
George H. W. Bush           Anderson Cooper                 Adlai Stevenson III
George W. Bush                 Winston Churchill               Benjamin Spock
George Washington           Charles Darwin                    Wright Brothers
Ulysses S. Grant                 Jeb Bush                            General MacArthur
Calvin Coolidge                   John Kerry                            Prince William
Benedict Arnold
I would suggesting visiting the following link and you will, as I have, come to believe that John Hinckley, Jr. was nothing more than a Manchurian Candidate whose mission it was to assassinate Ronald Reagan.
"Bush Son Had Dinner Plans With Hinckley Brother Before Shooting"
-Associated Press (March 31, 1981).
As one can see in the abovementioned chart, the Bush family and the Hinckley family are releated to each other? A Hollywood producer could not make this stuff up.
If One Assassination Threat Is Not Enough, Here Is Another
This week, John Hinckley was released to the custody of his mother. Isn't it interesting that Hinckley was released at a time associated with anti-Trump sentiment?  Regaan was a reformer and Trump is a would-be reformer. After this many decades, why was Hinckley released now?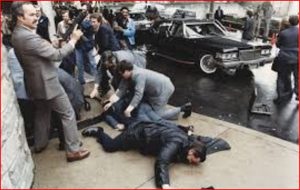 The Reagan assassination scene
The release of Hinckley is a gross miscarriage of justice for this willing Manchurian Candidate who should have never seen the light of day.
In the following video, I describe why the Hinckley release endangers Donald Trump.
Interestingly, Pappy Bush (George HW Bush) were close friends and relatives of the Hinckley family.
DOES ANYONE THINK THAT THAT ROMNEY'S THREATS TO TRUMP IN FRONT OF THE HINCKLEY CORPORATE BACKGROUND AS WELL AS THE RELEASE OF HINCKLEY DURING THE HIEGHT OF THE CAMPAIGN SEASON, AFTER MORE THAN THREE DECADES, IS A COINCIDENCE? IF YOU DO, I HAVE SWAMP LAND IN FLORIDA I WOULD LIKE TO SELL YOU. BUT AS THEY SAY I THE INFOMERCIALS, WAIT, THERE'S MORE!
MORE THREATS AGAINST TRUMP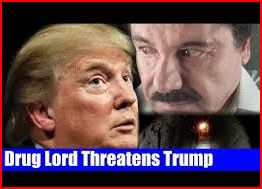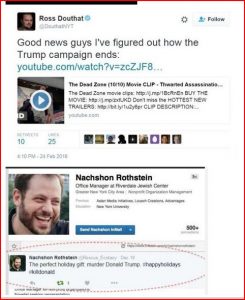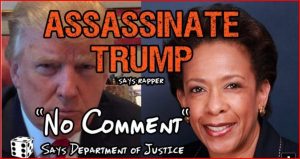 U.S. Attorney General refuses to investigate a death threat against a Presidential candidate. "No comment"….. says Attorney General Loretta Lynch(mob).  Lynch will threaten the american public for speaking about Muslim extremism, however, she won't do her job and protect a presidential candidate.
Substitute the word "Clinton" for Trump, do you think the FBI would be investigating? Then would Lynch do her job?
We Can't Forget the Context of the Threats Against Trump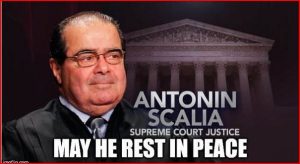 The nation has been left with the disturbing image of a murdered Supreme Court Justice. Yes, he was nearly 80. Yes, he was 80 pounds overweight. But he died with his required Federal Marshall protection, he was immediately embalmed before a required autopsy of a senior government official could take place and he was found with a pillow case over his face.
In light of the threats at work against Trump, we must consider the context from which these threats are occurring. The fight for the Republican party, and ultimately the country is on. One major murder has already occurred. A threat has been issued by a prominent Republican figure against Donald Trump.
The Undeniable Conclusion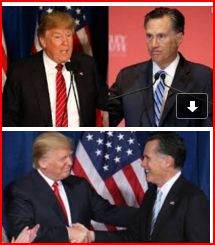 Can there be any doubt that Romney was threatening Trump this past week?
Subsequently, Trump canceled his personal favorite appearance, the CPAC. His cancellation really hurt him with Republicans and there is no doubt that had a carry over effect on Trump's mediocre Primary performance on Saturday. Why would Trump cancel when he could have easily made a cameo appearance in between campaign stops?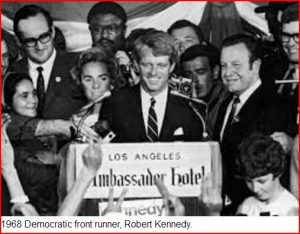 1968 Democratic front runner, Robert Kennedy.
When a former Republican nominee deliberately uses as a background a moniker bearing the family name, complete with the unique spelling of the very  last name of a Presidential assassin, and issues a scathing rebuke of a Presidential candidate, and it occurs within the context of today's events, and then this is followed by the accompanying release of a would-be presidential assassin (Hinckley). can there be any doubt what the globalists' intended message was? If you still have any doubt, see what the father of then-Presidential candidate, Jeb Bush, did when he was asked about Donald Trump. The Godfather of the Bush crime family responded with a throat slash.

Trump's Life Is In Grave Danger-High Profile Assassination Warnings Continue
Stew Webb Radio
Listen Live
US Intel Breaking News
http://www.stewwebb.com