National Emergency Case David Nino Rodriguez with Roland Brunson on Scotus Case Jan 6 2023 US Supreme Court
This is a must case the US Supreme Court will either reject or hear this case, we all should know by Wednesday January 11, 2023 and this does not mean the case is over with.
Brunson case could remove 2/3 of the Congress and Senate on Treason Charges.
Every American should get involved and Support the three Brunson Brother who are Super Patriots and True Americans for what they are doing.  They are risking their Lives for you and me.
It takes Guts and GOD – JESUS guidance to do what these three Men are doing.
Listen to the Video below in full detail and send a letter of support the U.S. Supreme Court and a copy of the letter with a donate of $5.00 or $1.00 or $100.00 whatever your soul leads you to do.
Click these links with their address and the Supreme Courts address.
This could change America at the very time the change is well overdo by many years.
Please show your support for these Great Men's efforts.
Stew Webb U. S. Federal Whistleblower
816-492-9809
www.stewwebb.com
David Nino Rodriguez With Raland Brunson! "The SCOTUS Case To Shock The World?"!! – Must Video
https://rumble.com/v249v9a-david-nino-rodriguez-w-raland-brunson-the-scotus-case-to-shock-the-world.html
National Emergency Call To Action – Stew Webb Federal Whistle blower
http://www.stewwebb.com/brunson-brothers-scotus-case-22-380.JPG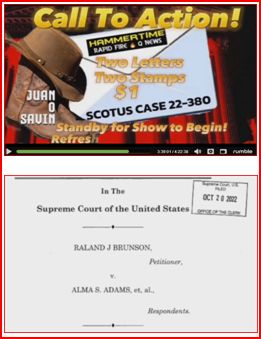 http://www.stewwebb.com/brunson-brothers-scotus-case-22-380-2.JPG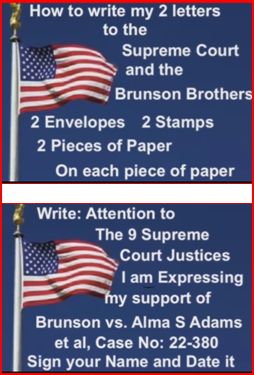 http://www.stewwebb.com/brunson-brothers-scotus-case-22-380-3.JPG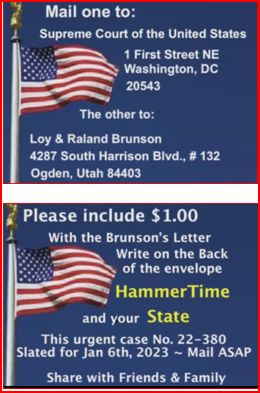 http://www.stewwebb.com/brunson-brothers-scotus-case-22-380-4.JPG

https://allpatriots.gumroad.com
What's next for the Brunson case at the Supreme Court