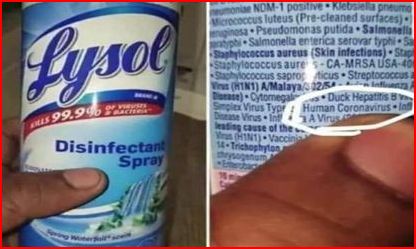 EPA approves 2 Lysol products as first to effectively kill novel coronavirus on surfaces
While there are more than 420 products on the disinfectant list the EPA says are strong enough to ward off "harder-to-kill" viruses than the novel coronavirus, these Lysol products are the first to be tested directly on the virus and proved effective.
The US Environmental Protection Agency has approved two Lysol products as effective against the novel coronavirus when used on hard, non-porous surfaces.
Lysol Disinfectant Spray and Lysol Disinfectant Max Cover Mist meet the EPA's criteria for use against the SARS-CoV-2, the virus responsible for the ongoing pandemic, based on laboratory testing that found both products kill the virus two minutes after contact, the agency announced in a statement Monday.
https://abc7.com/lysol-fda-products-covid-19-wipes-spray/6304805/
First reported here on Stew Webb .com