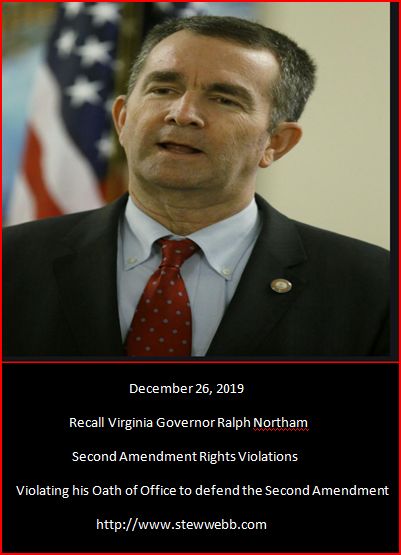 Recall Virginia Governor Ralph Northam
This is why!
Virginia's new gun control plan isn't about saving lives – it's about controlling them

Police officer to Virginia politicians: We took an oath, and real cops won't confiscate firearms.

Stew Webb Radio December 24 2019
Guest: Professor Jim Fetzer
Subject: Virginia Governor Second Amendment updates, Impeachment of President Trump
20 minutes

This is how to remove this Violator of his Oath.
The Recall Sword Used Against Those that Violate the U.S. Constitution!
Your kind and generous contributions are much appreciated and needed thank you Stew Webb.(Click this link to Contribute)
Contributions by mail:
Stew Webb
10607 E. Sheley Rd.
Independence, MO 64052
Contact Stew Webb
(Cell) 816-492-9809
federalwhistleblower@gmail.com
contact@stewwebb.com