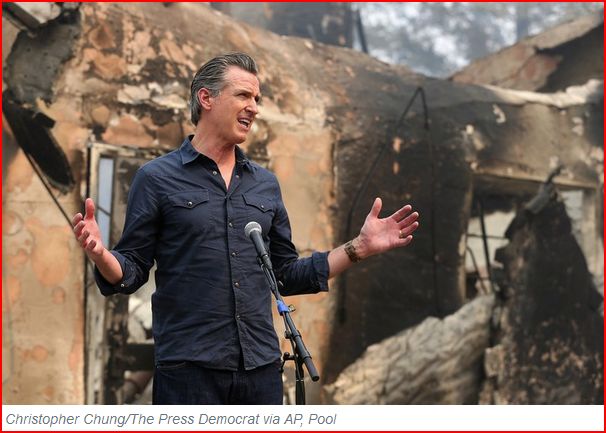 Los Angeles Area Sheriffs Refuse to Enforce Gov. Newsom's Ridiculous Coronavirus Curfew
Well, that didn't take long.
Less than a week after the Sacramento County Sheriff announced that his office would not be enforcing California Gov. Gavin Newsom's COVID curfew, more departments followed suit. In fact, most law enforcement agencies in southern California have indicated that they have no intention of looking for people violating the curfew.
Reporter Bill Melugin with Fox's Los Angeles affiliate, KTTV-11, posted a series of tweets announcing that a slew of sheriff's offices have told the news outlet they will not enforce Newsom's orders.
"We've now heard from every Sheriff in our SoCal viewing area. San Bernardino, Orange, Ventura, & Riverside Counties will not actively enforce the curfew order. LA Sheriff will take a voluntary compliance/education first approach, will not make any arrests related to order @FOXLA," he wrote.
It appears that the only police agencies who will enforce the order are those of Costa Mesa and Irvine. It seems that these Orange County cities don't mind a little Marxism in their lives.
Orange County Sheriff Don Barnes issued a statement announcing that his officers would take an "education-first approach," but would not respond to calls related only to COVID restrictions enforcement. "At this time, due to the need to have deputies available or emergency calls for service, deputies will not be responding to requests for face-coverings or social gatherings-only enforcement," the agency explained.
The curfew, which is expected to begin on Saturday, Nov 21, is supposed to be in effect from 10 pm to 5 am for a month. Supposedly, this will prevent the spread of the coronavirus. It was a plot cooked up by Newsom's office in response to the recent uptick in COVID-19 deaths and cases.
So far, sheriff's offices in Sacramento and most of southern California have publicly stated that they will not go along with Newsom's onerous COVID-19 restrictions. This trend is also occurring in other states like New York.
Democratic governors have been responsible for some of the worst restrictions under which Americans have had to live since the outbreak began earlier this year. Now, it appears even other government officials have grown weary of the restrictions, which have resulted in severe economic problems. The more people that push back against these mandates, the harder it will be for these governors to intrude in the lives of their citizens. Let's have more of this, please. 
To go to original Please cut and paste original into your browser:
https://
redstate.com/jeffc/2020/11/21/los-angeles-area-sheriffs-refuses-to-enforce-gov-newsoms-ridiculous-coronavirus-curfew-n283242