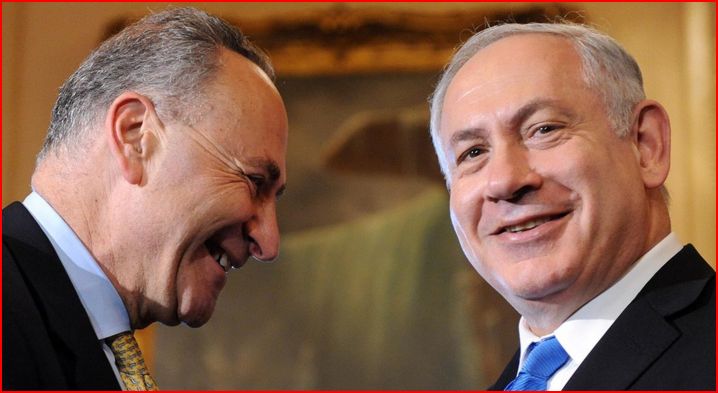 Shumer Blackmailed by Clinton, Bush and AIPAC Directors
with Boulder Properties LTD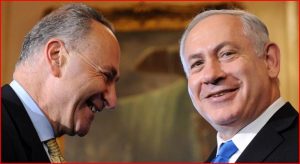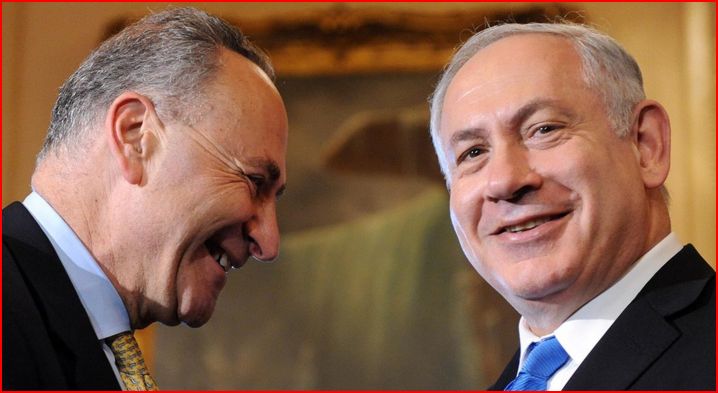 Left Senator Charles Shumer with BiBi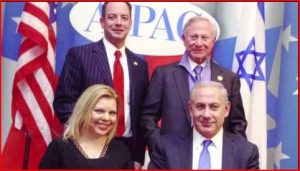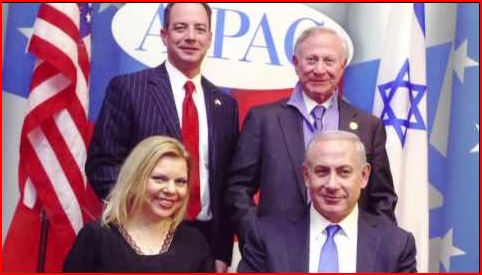 Right top AIPAC Director Larry Mizel
Top left a former White House AID ?
By Stew Webb Federal Whistle blower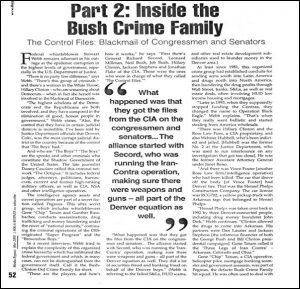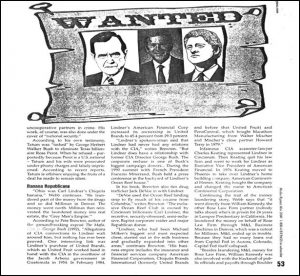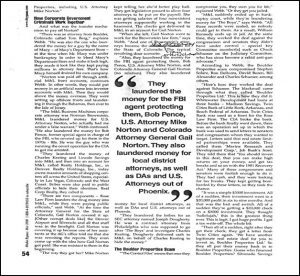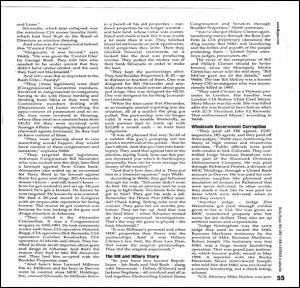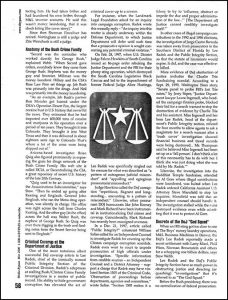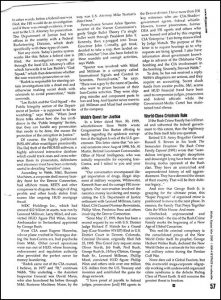 Related:
Boulder Properties Limited The Control Files
The Blackmail of Congress and Senate by Republican-connected swindler Leonard Millman 
December 2000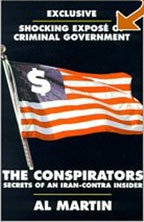 More Skeletons from the Bush Dynasty Closet

And speaking of DUI's in the Bush Family…
Did you know that George Bush, Sr. was also charged with Driving Under the Influence of Alcohol in the State of Florida, during the time he was the Director of the Central Intelligence Agency?
Naturally it was taken off the record. The arresting officer died. (Cue up the laugh track) His wife was going through his papers and found an affidavit he had executed regarding this scenario because he knew that it would be taken off the record.
It happened outside Sarasota.
***
From The Above the Law Dept. —
No license? No problem.
All through the 1980s, when Jeb Bush ran the Bush Realty out of Miami at 1390 Brickell Ave. (before he ran Bush Codina Realty in 1992-1993), he represented himself to clients, banks, insurance companies and mortgage brokers as a licensed realtor. In fact Jeb Bush is not a licensed realtor in the State of Florida nor has he ever been.
His application for a realtor's license in the State of Florida was repeatedly rejected due to "outstanding criminal investigations of his business activities conducted by the Florida Department of Law Enforcement."
***
When brother Neil Bush was at Silverado Savings and Loan of Denver, he was involved in putting together the infamous Boulder [Colorado] series of Real Estate Limited Partnerships…
He was personally involved in it. He voted for Silverado to finance the deal and he helped market the deal through his Gulfstream Realty.
This is the notorious fraudulent limited partnership that was based on busted-out HUD properties, formerly belonging to the infamous Republican-connected swindler Leonard Millman. This was the different one — the partnership that was marketed to liberal Democrats in Congress as a "control" feature. It was this limited partnership in which Congressman Bill Alexander had invested $3 million and was ultimately forced into bankruptcy because it was bogus.
Congressman Alexander was told that if he didn't back down from his Iran-Contra probe, he would be forced to make good on the recourse notes. When he refused to back down, there was a demand made by the financing bank, Twin Cities Bank of Little Rock, Arkansas on the notes, which forced Alexander into a bankruptcy filing.
***
The media has become quite blase about the crimes of the Bush Family.
For instance, George Bush Sr.'s last net worth filing with the Federal Election Commission indicates he has a net worth of only $76 million. And yet he donates $100 million to Yale University, and nobody even blinks an eye.
Why? It's apathy. Everone knows that George is probably a billionaire, but you look at his public disclosures, in no public disclosure has he ever claimed to be worth more than $100 million.
There's so much apathy about him in the media. The media looks at George S., and so do the American people and they assume that no matter what he's saying he's lying.
As in "Read my lips. Everytime they move, I'm lying." And since everyone already assumes that, there is no will to investigate.
So I don't find it unusual at all — that he keeps getting away with it.
Why does the CIA keep getting away with dealing in narcotics? Why do a lot of things happen? It's because the public already believes it. The media no longer has to convince anyone. Therefore there isn't any pressure or interest to investigate. If the people already believe that something happened, then what is the media going to do? It's like beating a dead horse.
Have you heard that Fox News and CNN may actually enjoin in legal action to keep the election results outstanding? It's in their best interests. They're frightened that tomorrow there may be a resolution. If the Florida Supreme Court says that's it, then the drama may be finished. Therefore the networks may enjoin themselves on some of the outstanding lawsuits — to keep the thing alive as long as possible.
Why? Because of the election uncertainty, media revenues have risen an average of 23% according to the latest statistics.
Translation: people are transfixed by the boob tube. Let's keep it that way.
***
If anybody was really concerned about the election results, the first place real concern is reflected is in the markets.
It's true that equities haven't done that well but that could be for a lot of reasons. If there was a real problem, the Cash DX Exchange — the DXZ — the debt contract of the U.S. Dollar would be falling — and it isn't. Also the nearby contract of gold would be rising — and it isn't. Those are the two key telltale signs.
The only thing that makes any difference is what the markets do. That's what dictates everything. What the people think — nobody cares about that.
Like the old adage — buy on the rumor, sell on the fact.
There's nothing to worry about. If there was anything to worry about, you would find the market buying on the rumor. US Treasuries remain strong. There has been no selling in US Treasuries, nor has there been any of what they call "hedge buying" in US Treasuries. The Dollar Index remains 115-116. Gold remains at 265.
Translation? No problemo.
Related:
The Conspirators:
Secrets of an Iran-Contra Insider
By Lt. Cmdr. Al Martin (US Navy, Ret.)
Copyright 2000, Al Martin. All Rights Reserved
Table of Contents
Chapter 1 Confidential File: Alexander S. Martin……………………………………………….…3
Chapter 2 The NPO and Operation Sledgehammer……………………………………………. 14
Chapter 3 Oliver North: The Money Laundering Drug Smuggling "Patriot"……. 26
Chapter 4 "Do Nothing" Janet Reno and Iran-Contra Suppression………………..….. 42
Chapter 5 Classified Illegal Operations: Cordoba Harbor and Screw Worm ……..50
Chapter 6 The Don Austin Denver HUD Fraud Case …………………………………..….. 66
Chapter 7 Bush Family Fraud & Iran-Contra Profiteering ……………………………… 72
Chapter 8 Insider Stock Swindles for "The Cause"…………………………………………….89
Chapter 9 Corporate Fraud, Stock Fraud and Other Scams………………………………106
Chapter 10 The Tri-Lateral Investment Group – Bush Family Fraud…………………. 114
Chapter 11 Lawrence Richard Hamil: The US Government's Con Man…………… 122
Chapter 12 US Government Narcotics Smuggling & Illicit Weapons Sales……… 136
Chapter 13 US Government Sanctioned Drug Trafficking ……………………………….. 141
Chapter 14 The Chinese Connection: US Weapons & High Tech Graft…………….. 156
Chapter 15 More Iran-Contra Stories: Both Humorous & Salient …………………… 171
Chapter 16 Chinese Money for US Weapons …………………………………………………….185
Chapter 17 US Government Narcotics Smuggling (Part 2) ……………………….… 192
Chapter 18 In Hiding Again ……………………………………………………………………………..209
Chapter 19 Corporate Fraud, Government Fraud and More Fraud……………………224
Chapter 20 The Real Story of Operation Watchtower…………………………………………234
Chapter 21 KGB & East German Activities in the US (1985-87)…………………………..240
Chapter 22 The Woman in Red (And Black)…………………………………………………………252
Chapter 23 Bush Family Corporate, Real Estate, and Bank Frauds…………………….260
Chapter 24 Iran-Contra Real Estate Fraud…………………………………………………………..277
Chapter 25 More Chinese-Military Connections…………………………………………………288
Chapter 26 ONI, CZX & Orpheus. ………………………………………………………………… 295
CONFIDENTIAL FILE: ALEXANDER S. MARTIN
* Born 5-19-54, Oberammergau, West Germany, Federal German Republic.
* Mixed German and American parentage.
* Returned to United States 09-Aug-1957.
* Graduated Masconoma Technical School, 16-May-1972.
* Full ROTC training then available at high school level.
* Graduated with certificates in electronics and communications equipment, as well as a
Level 05 Certificate in Russian Languages.
* Subject joined the United States Navy, 19-May-1972.
* Sent to China Lakes Naval Air Station to complete basic training and for further
training in electronics and communications.
* Subject MOS – 16-Sep-1972.
* At subject's request, TDY'd 03-Oct-1972 Naval Communication Center, Saigon, South
Vietnam.
* Remained in South Vietnam theater until cessation of naval and air hostilities on 27-
Aug-1973.
* On 04-Sep-1973, subject again, and on request, TDY'd Subic Bay, Pacific Theater of
Operations Naval Command Center.
* Discharged honorably United States Navy 19-May-1976.
* Immediately thereafter joined United States Naval Reserves, Active Status.
* Rremained United States Naval Reserves active status doing two tours.
* Transferred and relisted, inactive service United States Naval Reserves.
19-May-1984,
* Subject retires United States Naval Reserves 19-May-1988 at the Reserve Officers Rank
of Lt. Commander.
After my discharge from active naval duty service in 1976, I moved to Cuzco, Peru,
and set up a business with a childhood friend, George W. Carver III, son of then CIA
Deputy Director, George W. Carver Jr.
The business dealt in alpaca, llama, and vicuna, but was actually a cover, as a "G" for
the State Department.
My assignment at the time was to gather intelligence on Russian military operations
in Peru.
At the time, Peru was officially pro-Moscow. It was armed by Moscow and had
about 4,000 Russian army advisors in the country.
I remained in the country until September 9, 1977, the coup of Gen. Hector Bermudez
and the installation of civilian President, Fernando Terry. At that time I returned to the
United States, initially settling in Miami.
While in Peru, I became acquainted with numerous CIA field agents and support
personnel, then being run out of CIA's Lima station. These included Deputy CIA
Station Chief Eugene S. Barlow, more commonly referred to as "Buzz" Barlow, whose
claim to fame had been that he had secretly recruited Vladimiro Montesinos, a
Peruvian army officer, who then in turn developed an intelligence network that
informed on Russian Army and Soviet KGB movements within Peru.
An interesting footnote to this is that eight years later, Montesinos would become a
double agent working for the KGB. He was being run by then Assistant Deputy KGB
Director, Major Yuri Shvets, whose cover was Commercial Trade Attache for the Soviet
Embassy in Washington.
Barlow would play an important role in Iran-Contra, particularly in the post 1983
environment and would finally finish up his career as a senior FBI agent at the Tulsa
field office.
Subpoenaed before Congress in 1987, Barlow either refused to answer, or answered "I
don't know" 117 times when asked about his Iran-Contra role.
In 1978, I met Lawrence Richard Hamil, a Department of Defense shadow player, a
hanger-on as many are, who wait for profitable covert operations.
His father was the well-known Harry J. Hamil, former senior Defense Department
policy analyst of their southern desk before his death of natural causes in 1984.
Hamil and I and others including Frank Snepp, Jack Terrell, Harry Aderholt, Landon
Thorme, Duke Rome, and a host of other players in the shadows of Washington,
became involved in a scheme in 1979 to traffic in American Express credit cards in
Argentina on behalf of the American Express Corporation.
At that time, the United States had placed a short-lived financial embargo on the
country of Argentina in an attempt to pressure the military junta there.
I received twenty dollars for every American Express Card delivered to waiting
customers in Argentina.
You may remember that the scandal was broken by The Washington Post in 1980.
They showed that there was extensive CIA involvement in the operation and that, in
fact, the CIA had actively cooperated with other United States' financial institutions to
evade the financial embargo placed on Argentina at that time.
Through 1980, I also became involved with Mr. Hamil and others in illicit
transactions to evade the Dominican sugar blockade then extant at that time.
In the late 1970s, I became involved with Lt. Col. Jack Terrell, Brig. Gen. Harry
Aderholt, Lt. Col. Landon Thorme, Lt. Col. Duke Rome.
All would become major Iran-Contra participants three or four years later.
Landon Thorme, for instance, was very close to Jeb Bush.
He acted as a corporate strawman for Jeb Bush in a lot of Bahamian shell corporations
formed around Bush's principal artifice called IMC (International Medical Corporation)
then directed by the infamous Miguel Recarey, who fled the country in 1985.
In 1984, at the request of Lawrence Richard Hamil, I formed several corporations in
Florida, chiefly among them, Southeast Resources, Inc.
I also established offices in Miami, ostensibly to act as a primary marketer for Hamil's
series of corporate shells, collectively known as the Gulf Coast Investment Group.
The shells were formed primarily to legitimize the flow of funds between wealthy
individuals and right-wing Republican investors who wished to support Iran-Contra.
Oliver North called it "The Cause. Secord called it "The Enterprise" and by June 1984,
it was just starting to get off the ground.
Obviously it was not legal for these individuals to contribute money to an illicit and
illegal covert operation of state.
Therefore they needed a legitimizing factor which is what Hamil and I provided.
In July 1984, I had a meeting with Richard Secord and Larry Hamil in Miami. There I
was extensively briefed about Iran-Contra operations and was allowed to review
voluminous CIA white papers concerning Operation Black Eagle drafted in 1983.
Very quickly I understood that Iran-Contra (or the euphemism "Iran-Contra") was a
ruse to ostensibly arm an envisioned 50,000 man guerrilla or "contra" army in
Nicaragua which would act as a bulkwark against the increasingly powerful Sandinista
regime.
The Sandinistas by that time had built up an army of 120,000 men and were being
extensively equipped by the Soviets.
Trinity Oil and Gas, which again made the same claims that Gulf Oil Drilling Supply
Company had previously made. They said that these leases were, of course, fabulously
valuable, when in fact, they were tantamount to worthless.
To further illustrate the Arkansas connection to Trinity Oil and Gas, it should be
noted that the general counsels with the law firm of Rose and Hubbel — their bank was
another infamous Arkansas Iran-Contra bank — the Twin Cities Bank of North Little
Rock, Arkansas.
The officer there, later a Director of the bank who handled the account was the
infamous Jonathan Flake. Flake was the one who helped Seal and Hamil put together
limited partnerships and syndications, while the bank provided bridge loans.
Also, in general partnerships of oil production, proved up production (which they
didn't have, but they simply made it appear that they had), interests were sold by, of all
people, Dan Lasater.
Flake, by the way, was an officer and Director of Twin Cities Bank of North Little
Rock — a key figure in Iran-Contra fraud in Arkansas.
Flake was involved in numerous oil and gas scams and bogus real estate limited
partnerships that the bank also marketed and/or financed. He was also involved with
numerous U.S. congressmen.
In all of these bogus oil and gas deals or bogus real estate deals that Congressman
Alexander, Congressman Solarz, Congressman Dellums and others got hurt, the
common factor is Twin Cities Bank of North Little Rock Arkansas and its senior loan
110
officer and later Director, Jonathan Flake.
A precise example of Flake's involvement would be that Twin Cities Bank of North
Little Rock was both was a submarketer through its securities division as well as a
financier in terms of holding non-recourse and fully recourse paper on bogus limited
partnerships.
However, Flake was directly involved in the marketing and subsequently financing
of the fraudulent real estate investment trust known as the Boulder Property Limited
Series of Partnerships.
It was through these partnerships that Congressman Alexander lost about $3 million.
Now Alexander didn't actually lose the $3 million. He didn't have it to lose. But he was
forced to default on the debt and forced to declare personal bankruptcy because of it.
Later we will agains touch on Twin Cities Bank of North Little Rock, Arkansas, and
see how that bank is a key element in the so-called Denver Daisy Chain.
Through this bank, it will be possible to see that Neil Bush was a substantially larger
Iran-Contra fraud and Iran-Contra profiteering player than the public has been led to
believe because there is a direct connection between Silverado and the Twin Cities
Bank of North Little Rock.
That connection exists through Phil Winn of the Winn Group in Denver and his
partners Leonard Millman and Steve Mizel, as well as Millman's company, MDC
Holdings, a publicly listed company and its then brokerage subsidiary, the National
Brokerage Group.
These are all infamous Iran-Contra artifices, but we are going to explore in the Denver
Daisy Chain and make the connection between the Denver frauds and how that filters
through Arkansas. This is an area which has not been extensively researched in the
past.
Moving on to the infamous Gulf Oil Drilling Supply Company — this was Jeb Bush's
favorite oil and gas fraudulent artifice. Many of these Iran-Contra frauds would
borrow names from large existing well-known corporations, such as "Gulf."
You will see in virtually every oil and gas fraud in Iran-Contra the word "Gulf" is
used.
However, it is commonly and correctly presumed that the word "Gulf," as in Gulf
Coast Investment Group and its subsidiaries refers to the southeastern United States
region, meaning "Gulf," which is the common presumption.
In the case of Gulf Oil Drilling Supply — Jeb Bush's deal — that referred to the Arabian
Gulf. This is not commonly known publicly. But it really should be.
It's rather obvious when one looks where Gulf Oil Drilling Supply Company
111
supposedly did business.
Its principal foreign office was in Bahrain, which was headed by, of course, Richard
Secord.
Gulf Oil Drilling Supply of Miami, New York and Bahrain was, I believe, a more
sizeable fraud than has been publicly thought in the past.
When one adds up total losses taken by banks and security houses, it is in the $300 or
$400 million range, so it is what I would consider to be a medium to larger size fraud.
The fraud was rather simple.
Richard Secord arranged through then Vice President George Bush Sr.'s old friend,
Ghaith Pharaon, the then retired head of Saudi intelligence, for Gulf Oil and Drilling to
purchase from the Saudi government oil and gas leases in the Gulf which were
effectively worthless.
As you know, most Gulf Oil production is onshore and not offshore.
The reason is that it is very expensive to extract offshore.
And, of course, these leases would be dummied up, then prettied up to make them
look like they were just worth a goddamn fortune.
The leases again would be hypothecated or borrowed against in some other fashion,
again, through Intercontinental Bank, Great American Bank and Trust of West Palm
Beach which subsequently failed under the weight of unpaid Iran-Contra loans.
Marvin Warner, of course, was the chairman of that bank. Also, in the case of Gulf
Oil Drilling Supply, there was some moderately large international lending to that
company.
As you would suspect, it was principally out of the old George Bush friendly banks —
Credit Lyonnais and Banque Paribas, which, combined lent $60 million dollars to Gulf
Oil Drilling Supply, which, of course was defaulted on later.
It has always been my personal opinion that the reason the Kerry Committee, the
Hughes Committee, the Alexander Committee, and other Iran-Contra investigating
committees on the Hill as well as some people in the media shied away from Gulf Oil
Drilling Supply — and why there is so little known about it publicly — is because it
directly relates to the great conundrum.
The minute it is seen that Gulf Oil Drilling Supply had relationships with Credit
Lyonnais, Banque Paribas and others — that puts it in a whole different much higher
realm.
The old George Bush connections of deep old fraud is something that everyone in the
media and on the Hill is frightened of because — if you started with Gulf Oil Drilling
Supply and investigated it to its logical conclusion, you get into that whole bigger
112
picture where there is multi-billion dollar fraud — something no one really wants to
look at.
And Gulf Oil Drilling Supply is very difficult to segregate, to look at it as one
individual company, or one individual fraud, or a series of frauds because it's really
much more than that — and it taps into a much larger pre-existing fraud.
However, I would certainly recommend that it be pursued, since I have substantial
information about Gulf Oil Drilling Supply (I did business with them and with the
Orca Supply Company).
In some cases, I repackaged the worthless leases into other partnership deals. But I
do have substantial information about it.
There is a lot more information available about Gulf Oil Drilling Supply than is
commonly presumed, because when Iran-Contra unraveled the day after Thanksgiving
1986, there was a big effort to classify documents concerning Gulf Oil Drilling Supply.
There wasn't any effort made to hide them under correct analysis that no one would
want to get into the deal and really pick it apart for fear of that big bugaboo — for fear
of getting into the bigger picture of the deep old frauds.
It should also be noted that Gulf Oil Drilling Supply also retained banking
relationships with the Bank of Greece, Union Bank of Switzerland, and Jarlska Bank of
Copenhagen.
One need only look to see who was on the Board of Advisers of Gulf Oil Drilling
Supply to see what the fraud was all about — essentially the old cast of characters.
Ghaith Pharaon was on the Board of Advisers.
Andre Papandreou, the former Prime Minister of Greece was on the Board of
Directors.
Marcel Dessault, Jr., the old man's son, was on the Board of Advisers.
And, of course, we see these names again, again and again in Iran-Contra frauds as
you saw these names ten and twenty years earlier in other type of Bush-orchestrated
frauds.
To get back to Trinity Oil and Gas — I wanted to mention something that's been
completely overlooked. Trinity Oil and Gas was a publicly listed company for a short
period of time on the pink sheets.
It was a deal that was done in part through Meyer Blinder (Blinder Robinson
Securities in Denver) as well as Atlantic Securities, Balfour McClain Securities, Singer
Island Securities.
All of these companies had the same ownership through the National Brokerage
Group of Denver.
113
Trinity Oil and Gas was backed into a shell which was then pumped up. The stock
traded as high as a dollar before the deal collapsed.
But returning to Trinity Oil and Gas — a good example of what I would list as a passthrough
fraud, that is, a nuts to bolts fraud.
The company is started as a fraud to legitimize flow of funds from Iran-Contra
sympathizers to the hands of Oliver North and Richard Secord and others. Then it
would pass into the hands of the political parties and the various members of the Bush
family who had financial interest in Trinity Oil and Gas vis-a-vis the connection
between Trinity and their own corporations.
What I mean by "pass-through" is not only was the oil-and-gas part of it a fraud (to
defraud banks and securities firms), but you then back it into a public shell — start it
out at three or four cents a share and pump it up to a dollar.
That is simply another way to exploit the fraud.
We have taken an oil and gas fraud, moved it into a banking fraud, then into a
securities fraud. It's called squeezing every last penny of fraud out of the initial fraud,
which is not directed towards anything else.
In the Florida connections (during 1983 to 1986) I was friendly with Charlie Harper,
then SEC Commissioner from Miami.
I used to see Charlie. Charlie used to go to a lot of Republican functions. Charlie was
also a team player, and when I mentioned the Trinity Oil and Gas, and Gulf Oil
Drilling Supply, Charlie said that those were on his "red flag" list — personally
provided to him from his superiors in Washington. These were deals that he was not to
look at or investigate.
Subsequently, in my 1987 testimony before the Kerry Committee, I had mentioned
this to Jeff Goldberg, then Counsel for John Kerry's office, and they approached Harper.
Harper immediately denied that such a list existed, and three weeks later, of course,
Charlie was promoted to Regional SEC Commissioner in Atlanta.
Of course, at this time, Mr. Harper was also unable to explain where the money had
come from for him to purchase a $350,000 vacation home in the out islands, and where
the money had come from for his sailboat and his Cessna 210 airplane.
He had always claimed that he was an honest public servant, living on his salary of $
68,932 a year.
It should further be noted that when the Kerry Committee attempted to ask then-
Florida State Controller, Gerald Lewis (the cousin, by the way, of the infamous Marvin
Warner) and later subpoena him as to why he had not investigated certain security
transactions and businesses ongoing in Florida such as the Gulf Coast Investment
114
Group, Trinity Oil and Gas, and the Gulf Oil Drilling Supply Company, the comptroller
promptly resigned his position and elected to take an extended vacation in his luxury
Caribbean home, which he purchased for the equivalent of ten years his public salary.
The Trilateral Investment Group Fraud
I'd like to discuss another infamous Iran-Contra cut-out — the Tri-Lateral Investment
Group, Ltd. This was another offshore corporation formed early in 1984 by Larry
Hamil and included as either its officers, principals, or directors, of Richard Secord,
Oliver North, Jeb Bush, Gen. Aderholt, and the infamous, sinister and dreaded Col.
Robert Steele.
Steele, by the way, now runs a business in McLean, Virginia called Outsource
Computers, Inc., whose soul contractee is the National Security Agency.
Anyway I wanted to use the Tri-Lateral Investment Group as a good example of one
business which incorporated all phases of the old right-wing favorite frauds, i.e. oil and
gas, real estate, gold bullion, aircraft brokerage, security and banking fraud, insurance
fraud. They were all wrapped up into one.
What Tri-Lateral would in real estate, for instance, would be to form various
fraudulent real estate investment trusts, which didn't exist as anything more than
paperwork in somebody's file drawer. They would take out leases on the land, build a
few models, get bridge loans, rehypothecate the bridge loans and so forth.
The net result is that in the end, the project would collapse, and $20 or $30 million
would disappear.
But on the real estate end of transactions, Tri-Lateral is interesting for its
involvements in a very infamous fraud — the Topsail Development, Ltd. Fraud of
Pensacola, Florida.
This was the famous diversion of 22,000 acres in central Florida, which was financed
115
by original bridge loans from the American Bank and Trust of Pensacola, Florida,
which at that time was owned by BCCI.
It seemed odd at the time, but this was not known until some years later. People
thought it was odd that BCCI would own a little nickel and dime commercial bank in
Pensacola, but it was essentially to launder money and to provide bridge financing for
Iran-Contra profiteering.
In 1988, the American Bank and Trust of Pensacola, Florida collapsed under the
weight of unrepaid illicit Iran-Contra loans. The Topsail Development deal was the
largest real estate fraud ever committed in the United States. It was ultimately bailed
out by the Coca-Cola Corporation through those Belizian transactions.
Tri-Lateral Investment Group had become involved in that transaction vis-a-vis the
leases that Tri-Lateral held through Larry Hamil on 45,000 acres of coastal Belizian
property.
All it ever was — was a first right of refusal and tenuous leases. The land was never
actually owned by Tri-Lateral. The loans, by the way, the $9 million in bridge loans to
purchase the lease on those lands, came from Great American Bank and Trust of West
Palm Beach.
Marvin Warner personally approved the loans. I was involved in several meetings. I
was sitting there, as a matter of fact, when Marvin Warner was there and Hamil and
Secord and others to discuss the bridge loan.
Naturally, this $9 million was never paid back, but that was the intent.
Simply transferring money from the bank into other people's hands ostensibly for
"The Cause" which we all chuckled about, as everyone knew that it was essentially
going into other people's pockets.
As history recounts, of course, Great American Bank and Trust also failed in 1988
under the weight of unrepaid illicit Iran-Contra loans, to the extent of about $156
million that wasn't repaid.
In terms of oil and gas, Tri-Lateral also had an interest in Gulf Coast Investment, Ltd.,
which held a lot of marginal oil production and limestone production in Tennessee,
Kentucky, and Oklahoma.
The old one-a-day pumper routine. In oil terms, what's known as the Knox in Clay
County, Kentucky that extends up around Olney, Illinois. These are all beat out one-aday
pumpers, one-barrel-a-day, two-barrel-a-day pumpers that have been around for
fifty years.
Hamil made them look like they were simply pumping thousands of barrels a day.
What Tri-Lateral would do was to take its supposed proprietary interest in Gulf Coast
116
Investment Group. Make it appear, in fact, this proprietary interest was worth a lot
more than it was.
It would then hypothecate that interest to commercial loans, principally out of
Citibank. It would then purchase with this money Citibank's securities, mostly Citibank
bonds.
I remember the large amount of the coupons in 1993 that Tri-Lateral held with money
it was lent by Citibank.
The notes would then be held at Merrill Lynch, where they would be margined out.
Then the money, again, would be put into something else, usually a bankers
acceptances, often at Chase Manhattan.
What I'm trying to say is that you start with $100,000 and at the end of a series of
frauds that $100,000 is essentially turned into a $10,000,000 house of cards, of which
perhaps $5,000,000 in cash was actually extracted before the whole house of cards falls
down.
As I've said before. what made this possible is that all the financial intermediaries,
banks, brokerage houses, or security companies, were all determined "Iran-Contra
friendly."
Again, essentially it was transferring wealth from a bank, from a brokerage, from
investors, from one pocket to another.
Your kind Contributions are very much appreciated thank you. – Stew Webb