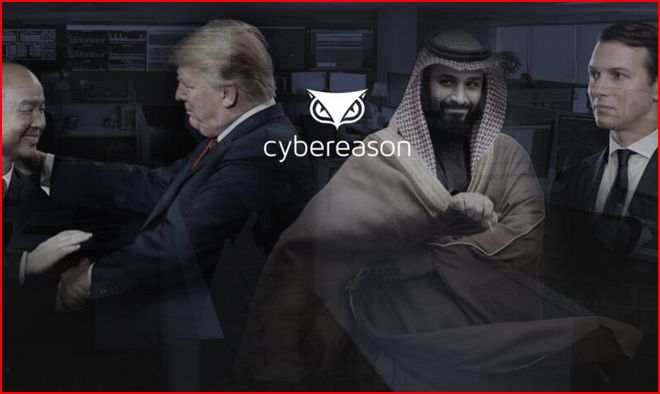 By Whitney Webb July 15, 2020
Russia, China and Iran are already being blamed for using tech to undermine the 2020 election. Yet, the very technologies they are allegedly using were created by a web of companies with deep ties to Israeli intelligence.
As World War II drew to a close in Europe, British philosopher Bertrand Russell wrote that "neither a man nor a crowd nor a nation can be trusted to act humanely or to think sanely under the influence of a great fear."
Though numerous examples in the post-World War II era have proven Russell's point, perhaps one of the best examples was the U.S. public's willingness to swallow lie after lie about Saddam Hussein's Iraq due to the climate of fear that followed the September 11 attacks. Those lies, propagated by dubious intelligence, government officials and a compliant media, resulted in catastrophes – large and small, both abroad and at home.
Today, an analogous narrative is being crafted by many of the same players – both in media and government – yet it has avoided scrutiny, even from independent media.
Over the past several months and with a renewed zeal in just the last few weeks, anonymous intelligence officials, dubious "experts" and establishment media outlets have crafted a narrative about the coming "chaos" of the 2020 election, months before it takes place. Per that narrative, certain state actors will use specific technologies to target the "American mind" in order to undermine the coming presidential election. The narrative holds that those efforts will be so successful that the U.S. will never recover as a democracy.
Though these anonymous government sources and their stenographers have already named the countries who will be responsible and the technologies they will use, they also admit that no evidence yet exists to back up these claims, meaning they are — at best — pure speculation.
Headlines such as "Hackers Are Coming for the 2020 Election — And We're Not Ready," "Basically Every US National Security Leader Is Warning About Foreign Interference In The 2020 Election," and "U.S. intel agencies: Russia and China plotting to interfere in 2020 election" have become increasingly common, despite no available evidence, as have warnings that the American public is defenseless against the old scourge of "fake news" and the new scourge of "deep fakes." Some media reports have gone so far to say that actual foreign meddling isn't even necessary as merely the fear of foreign meddling could be enough to upend the American political system beyond repair.
Historically, the goal of such fear-inducing narratives has been the trading of civil liberties for increased security, or rather, the appearance of increased security. Yet, when the need for security is felt due to a fear that is based on government-driven speculation and not on evidence, the goal of that narrative is not about protecting the public from a real, tangible threat but instead about the consolidation of power by the very groups responsible for crafting it — in this case, the intelligence community and other key players in the national security state.
However, what is particularly odd about this narrative surrounding imminent "chaos" and meddling in the upcoming 2020 election is the fact that, not only have the instruments of said meddling been named and described in detail, but their use in the election was recently simulated by a company with deep ties to both U.S. and Israeli intelligence. That simulation, organized and run by the Israeli-American company Cybereason, ended with scores of Americans dead, the cancellation of the 2020 election, the imposition of martial law and a spike in fear among the American populace.
Many of the technologies used to create that chaotic and horrific scenario in the Cybereason simulation are the very same technologies that U.S. federal officials and corporate media outlets have promoted as the core of the very toolkit that they claim will be used to undermine the coming election, such as deep fakes and hacks of critical infrastructure, consumer devices and even vehicles.
While the narrative in place has already laid the blame at the feet of U.S. rival states China, Russia and Iran, these very technologies are instead dominated by companies that are tied to the very same intelligence agencies as Cybereason, specifically Israeli military intelligence.
With intelligence agencies in the U.S. and Israel not only crafting the narrative about 2020 foreign meddling, but also dominating these technologies and simulating their use to upend the coming election, it becomes crucial to consider the motivations behind this narrative and if these intelligence agencies have ulterior motives in promoting and simulating such outcomes that would effectively end American democracy and hand almost total power to the national security state.
Media, intelligence foreshadow tech-powered doom for 2020
Even though the 2020 U.S. election is still months away, a plethora of media reports over the past six months (and even before then) have been raising concern after concern about how the U.S. election is still so vulnerable to foreign meddling that such meddling is essentially an inevitability.
Part of the reason for the recent pick-up in fear mongering appears to have been the release of a joint statement issued by key members of the Trump administration last November. That statement, authored by Attorney General Bill Barr, Defense Secretary Mark Esper, acting DHS Secretary Kevin McAleenan, acting Director of National Intelligence Joseph Maguire, FBI Director Christopher Wray, NSA Director Gen. Paul Nakasone, and Cybersecurity and Infrastructure Security Agency (CISA) Director Christopher Krebs, claimed that foreign interference in 2020 was imminent despite admitting that there is no evidence of interference having taken place:
Our adversaries want to undermine our democratic institutions, influence public sentiment and affect government policies. Russia, China, Iran, and other foreign malicious actors all will seek to interfere in the voting process or influence voter perceptions. Adversaries may try to accomplish their goals through a variety of means, including social media campaigns, directing disinformation operations or conducting disruptive or destructive cyber-attacks on state and local infrastructure.
While at this time we have no evidence of a compromise or disruption to election infrastructure that would enable adversaries to prevent voting, change vote counts or disrupt the ability to tally votes, we continue to vigilantly monitor any threats to U.S. elections (emphasis added)."
Despite the key caveat of there being no evidence at the time the statement was issued, media reports used the statement to claim that foreign interference in 2020 was imminent, such as in these reports from BuzzFeed, ABC News, and Newsweek.
In addition to the reports that have cast the involvement of state actors — namely Russia, Iran and China — as assured despite no evidence, other reports have made the claim that this allegedly imminent interference will inevitably be successful, largely due to claims that the tactics used will rely heavily on technology that the U.S. can't hope to successfully counter. CSO Online, an online news outlets that provides news, analysis and research on security and risk management, recently warned that "fixing America's voting and election infrastructure problems is a long-term proposition, one that won't be fixed in time for the election in November" while the New York Times warned of imminent chaos and that "stealthier" malevolent foreign actors had already created the foundation for "an ugly campaign season marred by hacking and disinformation." Wired claimed last year that U.S. election security "is still hurting at every level."
In another example, Rolling Stone published an article earlier this month with the headline "Hackers Are Coming for the 2020 Election — And We're Not Ready," which claims that "the reality is that: "We've made progress since the last election — but we're much less secure than we should be." The article goes on to say that claim that the goal isn't necessarily to hack voting machines or change results, but "to merely create the impression of an attack as a way to undermine our faith in the electoral process."
It continues:
The target is the minds of the American people," says Joshua Geltzer, a former counterterrorism director on the National Security Council. "In some ways, we're less vulnerable than we were in 2016. In other ways, it's more." Nearly every expert agrees on this: The worst-case scenario, the one we need to prepare for, is a situation that causes Americans to question the bedrock of our democracy — free and fair elections."
Well before this type of rhetoric made its way into the U.S. media, Israeli intelligence-linked tech firm Cybereason claiming in a release on its website that "messing with a voter's mind" would have a bigger impact than changing vote totals, even before the 2016 election. That release, published by Cybereason prior to the last presidential election, was authored by the company's CEO, Lior Div, who used to lead offensive hacking operations against nation-states for Israeli military intelligence.
Notably, of all of these media reports, there is a clear consensus that one of the main tactics that will soon be used to meddle in the coming U.S. election will be the use of so-called "deep fakes." Deriving its name from a combination of "deep learning" and "fake," deep fakes involve video and audio that has been manipulated using artificial intelligence (AI) to create media that appears to be authentic, but is not. Concern about its use in the upcoming election has spurred not only a wealth of media reports on the matter but has prompted both the U.S. military and Congress to take action to limit its potential misuse.
One thing that stands out about the media narrative regarding election meddling and deep fakes is that several news organizations have published articles that state that deep fakes will be used to undermine the 2020 election, as opposed to stating that they could be used or that they are a phenomenon worthy of attention (though some reports have taken this more measured approach).
The reason for this level of confidence may owe to statements made by prominent U.S. intelligence officials last year, including those made by Dan Coats, the former Director of National Intelligence (DNI), who claimed in the 2019 Worldwide Threat Assessment for the U.S. Intelligence Community that deep fakes and other hi-tech forms of fake media would be used to disrupt the 2020 election. Coats specifically stated:
Adversaries and strategic competitors probably will attempt to use deep fakes or similar machine-learning technologies to create convincing—but false—image, audio, and video files to augment influence campaigns directed against the United States and our allies and partners."
Since Coats made the warning, numerous media reports have promoted the concern with little scrutiny, representing just one of the numerous times in U.S. history where narratives first authored by U.S. intelligence are subsequently promoted heavily by U.S. media, even when the claim made by intelligence officials is speculative, as it is in this case. Indeed, the narratives being promoted with respect to the 2020 election involve many of the same intelligence agencies (American and Israeli) and media outlets who promoted claims that were later proven false about "weapons of mass destruction" in Iraq prior to the 2003 invasion, among other pertinent examples.
Notably, deep fakes figured prominently and was the tool most used by malevolent hackers in Cybereason's 2020 election simulation, which saw both video and audio-only deep fakes used to spread misinformation on national and local TV channels in order to impersonate police officers and election officials and to create fake bomb threats by posing as the terror group Daesh (ISIS). Cybereason also happens to be a partner of the organization funding the most well-known creator and producer of deep fakes in the world, an organization that — much like Cybereason itself — is openly tied to Israeli intelligence.
Aside from deep fakes, other technologies weaponized in Cybereason's election simulation have also been the subject of several media reports, such as the hacking of Internet of Things (IoT) devices and appliances and even the hacking of vehicles that have some form of internet connectivity. In the Cybereason simulation, IoT hacks were used to cut power to polling stations and disseminate disinformation while vehicles were hacked to conduct terror attacks against civilians waiting in line to vote, killing several and injuring hundreds.
Most media reports have claimed that these technologies will be part of the coming "explosion" in cyber warfare in 2020 and do not specifically link them to imminent election meddling. Others, however, have made the link to the election explicit.
Naming the culprits in advance
In addition to the apparent consensus on how foreign meddling will occur during the 2020 election, there is also agreement regarding which countries will be responsible. Again, this is largely based on statements made by U.S. national security officials. For instance, the joint statement issued last November by the DOJ, DOD, DHS, DNI, FBI, NSA, and CISA regarding 2020 election security, states that "Russia, China, Iran, and other foreign malicious actors all will seek to interfere in the voting process or influence voter perceptions" before adding "at this time we have no evidence."
Similarly, the 2019 Worldwide Threat Assessment for the U.S. Intelligence Community, written by then-Director of National Intelligence Dan Coats, names these same three countries in relation to imminent 2020 election interference and states that their interference in the 2020 election is "almost certain." The assessment adds the following about each nation:
Russia: "Russia's social media efforts will continue to focus on aggravating social and racial tensions, undermining trust in authorities, and criticizing perceived anti-Russia politicians."
China: "China will continue to use legal, political, and economic levers—such as the lure of Chinese markets—to shape the information environment. It is also capable of using cyber attacks against systems in the United States to censor or suppress viewpoints it deems politically sensitive."
Iran: "Iran, which has used social media campaigns to target audiences in both the United States and allied nations with messages aligned with Iranian interests, will continue to use online influence operations to try to advance its interests."
Coats' assessment was enough to spawn numerous stories on the imminent threat that these three nations pose to the 2020 election, with headlines such as "U.S. intel agencies: Russia and China plotting to interfere in 2020 election."
To continue reading please go to original link: