October 26, 2015
THE TRUMP TRAIN
Dear Stew Webb,
We are doing better than ever. We are still at the top of every national poll, ABC News and the Washington Post have Trump leading with 32% of support – even if the media won't report on it. We are leading by huge margins in both New Hampshire and South Carolina, and over 70% of Republican voters agree that he is the most electable candidate.
This week we are busy: Tomorrow we will kickoff our week with a rally in Sioux City, Iowa – get your tickets here.
On Wednesday we will be in Boulder, Colorado for the third Republican Debate at 8pm EST on CNBC. Let us know you are watching #TeamTrump16.
On Thursday we are having a rally at the Nugget Casino in Sparks, Nevada. Get your tickets here.
And finally on Saturday we will be in Virginia Beach aboard the USS Wisconsin. Don't miss it.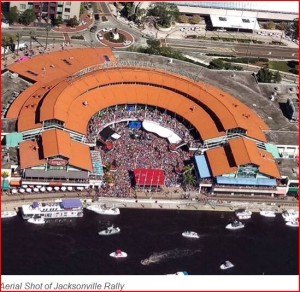 Last week was incredible. We made two stops in Florida. A passionate crowd joined me at the Trump Doral Miami on Friday. On Saturday, a tremendous crowd of tens of thousands of people gathered in Jacksonville to show their support. It was incredible to see people uniting behind our vision to Make America Great Again.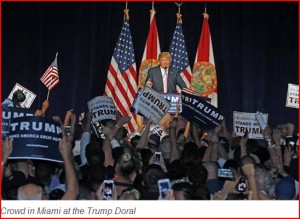 We will have many more campaign stops coming up. Look out for email invitations from us – and don't forget to show your support by purchasing the only official campaign merchandise at shop.donaldjtrump.com.
See you on the trail,
Team Trump
P.S. Hosting a debate party? Let us know. Share your photos #TrumpDebateParty