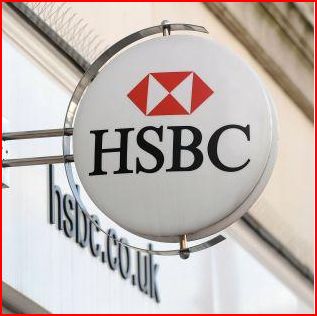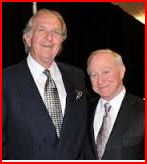 (L) Norman Brownstein (R) Larry Mizel both Directors who run HSBC Bank a Division of Great West Life of Englewood, Colorado. Brownstein and Mizel are AIPAC Directors,  Brownstein is one of George HW Bush's six CIA Council when Bush was DCI in the mid 1970s.
Mizel and Brownstein sold nearly $100 Trillion Dolllars of Illegal Mortgage Backed Securities that lead to Bank Bail Out in 2008. Larry Mizel's MDC Holding, Inc. (NYSE-MDC) was the parent company of Silverado Savings and Loan that collapsed with Neil Bush as the Director laundering Narcotics Money during Iran Contra from Bill and Hillary Clinton's Iran Contra Mena, Arkansas Narcotics for weapons with Ollie North. Clinton, Mizel and Brownstein and the others have never been  brought to Justice.
Stew Webb Whistle blower Federal Grand Jury Demand against Kerre Millman, Leonard Millman, Elaine Millman, Larry Mizel, Norman Brownstein, George HW Bush, Jeb Bush, Neil Bush, Bill Clinton, Hillary Clinton and others.
Stew Webb Savings and Loan Whistle blower Faces Illegal Charges
Stew Webb Official SEC Whistle blower Complaint Mortgage Backed Securities Fraud
Bush – Millman – Clinton Zionist Organized Crime Family Flow Chart (1)
FRAUDS ARE US AT MDC-NYSE The Denver Illuminati Zionist Connection
Illuminati Human Sacrifices June 21 and December 20-22 every year in Denver, Colorado
George HW Bush, Larry Mizel, Henry Kissinger, David Rockefeller, Rabbi Answar Bin Shari of Israel, Meyer Rothchild, and the other 12 Disciples of Satan are there Killing an Infant and drinking its blood as a Ritual to Satan.
From Cradle to Cabal The Secret Life of Gale Norton The Denver Illuminati Zionist Connection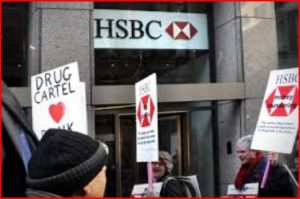 Big Banks Face More Charges of Ongoing Currency Manipulation
By Eric Sepanek
Executives in the massive banking firm HSBC were recently charged with more price and market manipulation accusations. Two senior executives are currently facing criminal charges alleging that they were involved in a currency manipulation scheme that illegally brought in $8 million. The allegation accuses them of conspiracy to commit wire fraud; unlike other insider trading schemes, this one allegedly hinged on trading in currency rather than stocks. The two men are accused of converting dollars into British pounds for a client, ramping up one currency for another.
Many long-term investors in gold and traders in all precious metals gave a knowing nod when this new was announced; HBSC has already been accused of manipulating the gold and silver markets.
"It's Not Paranoia If You Are Actually Being Followed"
A number of cases over the past two decades have resulted in prosecution for market manipulation, and many more such situations have been alleged. Recently the markets have seen:
A five-year investigation into the question of manipulation in the silver markets was closed in 2013. At that time the Commodity Futures Trading Commission stated, there is not a viable basis to bring an enforcement action with respect to any firm or its employees related to investigation of silver price fixes.
In July of 2014, Deutsche Bank, Bank of Nova Scotia and HSBC – and eventually USB – were named in a lawsuit alleging such manipulation does occur. The suit has produced several large settlements from several of these banks, including Deutsche Bank.
Deutsche Bank has also paid huge fines for manipulation of LIBOR, precious metals, and currency trading markets. It is now under investigation for yet another case of manipulation of both LIBOR and precious metals markets.
FINMA, the Swiss Financial Market Supervisory Authority banned six traders and managers who worked for UBS for their misconduct in manipulating both foreign currency and precious metal prices.
Switzerland's competition commission WEKO announced late in 2015 that is has launched an investigation into suspected manipulation of the precious metals markets. It is worth noting that this regulatory action involves a host of major banks, including "Deutsche Bank, UBS, Julius Baer, HSBC, Barclays, Morgan Stanley and Mitsui."
In spite of these actions and settlements, many institutional brokers continue to dismiss allegations of manipulation as conspiracy theory. The CEO of a major London physical bullion broker, Ross Norman, stated, "It is a good, clean, efficient market," Norman said, adding that certain banks have been investigated "dozens of times" and "nothing untoward has been found."
These standard denials become less believable as yet more executives and trading firms are involved in such accusations and settlements.
Why It Matters
With a global economy based on fiat government currency, central banks and large global institutions are both incentivized and empowered to manipulate their trading markets. The role of physical bullion has both a real and psychological impact on the market and the ongoing acceptance of unsustainable government debts and deficit spending.
Professional trader and gold investors have earnestly tried to sort out inconsistencies in the way gold and silver react to normal market factors such as supply and demand over the recent decades. They have increasingly seen market manipulation as the only way to explain such anomalies as the Gold-Silver Ratio, falling prices with increasing demand and decreasing supply, and other central bank actions.
Markets depend on investor and participant confidence to function as intended. With global economic challenges pushing more investors to buy gold and silver as a safe haven, any manipulators will find it increasingly difficult to support paper currency at the cost of normal pricing in precious metals.
Stew Webb Radio Network
Listen Live
US Intel Breaking News
http://www.stewwebb.com
Listen live by phone
712-775-8269
federalwhistleblower@gmail.com