FRAUDS ARE US AT MDC-NYSE The Denver Illuminati Zionist Connection
M.D.C. Holdings, Inc. A Publicly Traded Company (NYSE-PSX)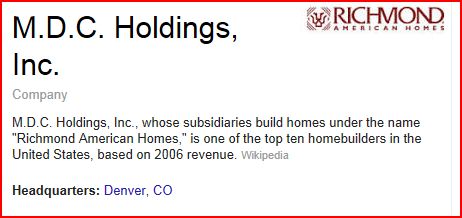 By Stew Webb Federal Whistleblower
A BUSH CRIME FAMILY COMPANY
Fraudsters, Scamsters, Blackmailers, Narcotics Money Launderers, and Murderers, Fake Mortgage and Bank Bailout Scamsters that exeeded $100 Triilion U.S. Dollars that  have ties to George W. Bush, Leonard Millman, Larry Mizel, Harkin Oil, the missing 10 Trillion Dollar Pension Fund Frauds and every major scandal of the 1980s, 1990s, and today.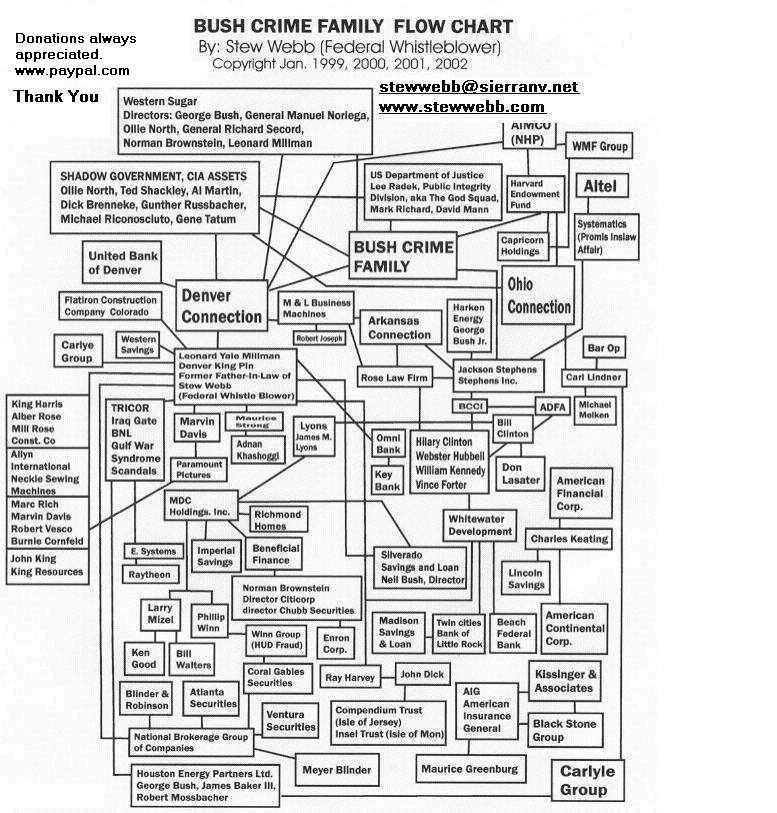 http://www.stewwebb.com/2013/08/11/bush-millman-clinton-zionist-organized-crime-family-flow-chart-1/
M.D.C. Holdings, Inc.
4350 South Monaco Street
Denver, CO 80237
303-773-1100
M.D.C. HOLDINGS, INC. Denver, Colorado a Publicly Traded Corporation listed on the NYSX, is a Leonard Millman/ Bush Crime Family Corporation, and now is back in the news:
MDC DIRECTOR AND PRESIDENTIAL PARDON
Convicted HUD Felon Phillip Winn, who Bill Clinton gave a Presidential Pardoned to before Clinton left the White House, is back in the news.
Denver Criminal Phil Winn the former Ambassador to Switzerland in 1988-1989, who had to resign after the June 1989 HUD Scandal hearings which I, Stew Webb, helped cause those investigations and the appointment of the Independent Prosecutor Arlen Adams. U.S. District Court Judge Sherman Finesilver was to sentence Winn after pleading guilty to robbing HUD but insted of putting Phil Winn in Jail Judge Finesilver sealed the case for 12 years so Bill Clinton could give an illegal Presidential Pardon.
MDC DIRECTOR CONVICTED FOR ROBBING HUD
Phil Winn of Colorado, who was the FHA Commissioner in 1981, robbed, looted and stole more than 500,000 apartment units from HUD from 1981 to date. Those units are held under the umbrella of AIMCO the largest landlord of apartments in the USA, most stolen from HUD. George H. W. Bush former CIA attorney Norman Brownstein is a director of AIMCO and former Director of MDC. Brownstein represents MDC Frauds.
MDC COLORADO'S LARGEST FINANCIAL CORPORATION
Phillip Winn a Director of MDC-Asset Investors, Colorado's largest financial Corporation, had ties to Harkin Oil Frauds involving George W. Bush and the Bush Crime Family. Asset Investors created the fake Mortgages that have lead to the current worldwide financial meltdown.
http://www.stewwebb.com/Letter_to_NY_Attorney_General_US_Attorney_SEC_Attorneys_20121005.htm
Leonard Millman's MDC Holdings, Inc. of Denver, run by Criminals Larry Mizel, Phil Winn, Norman Brownstein who was one of the six CIA council when George H. W. Bush was CIA Director in the 1970s, Clinton's attorney James M. Lyons, and other Criminals are on the Board of Directors.
MDC NARCOTICS MONEY LAUNDERING
MDC is Colorado's Narcotics Money Laundering Operations for the Bush Clinton Crime Family.
Radio 1997 Stew Webb Whistleblower and NSA-CIA Operative Gene Chip Tatum
http://www.youtube.com/watch?v=Bs2byHPFkhM

MDC SILVERADO SAVINGS FRAUDS
MDC was the parent company of Silverado Savings and Loan which collapsed Neil Bush was a Director his father George HW Bush was U. S. President.
MDC IMPERIAL SAVINGS FRAUDS
MDC was parent of Imperial Savings of California which collapsed.
MDC ILLEGAL POLITICAL CAMPAIGN MONEY LAUNDERING.
MDC was Colorado's biggest case ever involving illegal Political Campaign Money Laundering in 1990, MDC plead guilty and paid $1.5 million dollar fine to the SEC.
MDC COMMITS MURDER
Denver Federal Judge Richard Matsch's daughter was killed, to remove Matsch from the MDC Illegal Campaign Money Laundering case. CIA Judge Sherman Finesilver replaced Matsch and dismissed the case, while Matsch was in morning over his daughter's death. Matsch's daughter reportedly fell in a Hawaii Volcano after dating a CIA plant, which wined and dined her to neutralize Matsch, and remove him from the MDC case.
http://www.stewwebb.com/2013/08/12/from-cradle-to-cabal-the-secret-life-of-gale-norton-the-denver-illuminati-zionist-connection/
MDC COMMITS MURDER
Denver Mayor Fredrico Pena a know Pedophile and Homosexual who was molesting his nephew age 12 for 2 years began to tell all to Pena's relatives MDC Chairman Larry Mizel had him killed for Fredrico Pena who was transportation Secretary under Bill Clinton and Department of Energy Secretary under Bill Clinton. JD Method reported this while in Prison to the Colorado Attorney General Ken Salazar. Salazar was promoted by U.S. President Barack Obama to Secretary of Interior. J.D. Method had been part of the Denver Organized Crime Syndicate who came to me in 2010 after being released from Prison and gave me the following information.
http://www.stewwebb.com/jd_method_whistleblower_on_larry_mizel_06042010.htm
MDC  COMMITS MURDER AT UNITED BANK OF DENVER
In the basement of United Bank owned by Leonard Millman, Larry Mizel's boss 7 days a week 4 so called guards who are actually drug money laundering counters decided they were going to rip off Millman and Mizel who control 11 states drug from Daddy Bush aka George HW Bush's set up under Iran Contra a network of drugs for guns alive today.  They ripped off the Illuminati Denver Organized Crime Syndicate for $20,000.00 when Millman and Mizel found out they Hired Denver Policeman John King who had a key to the basement door entered and shot and killed all 4 money counters. John King was on video and was prosecuted by State Officials and was represented by a Mizel Criminal attorney who got him off. Federal Officials U.S. Attorney Mike Norton never brought charges because he was in on the take already and covered the 4 murders up. John King laundered $197,000.00 of the $200,000.00 he was paid to kill the 4 so called guards through M&L Business Machine Company of Denver the next day after the murders. It has been reported to this Whistleblower that Denver Policeman John Kill has killed 150 people for Leonard Millman and Larry Mizel many of the Colorado residents bodies are in the mass graves recently discover in Juarez, Mexico who have never been identified.
MDC RICHMOND HOMES
David Mandarich President of MDC Richmond Homes one of America's largest home builders, and was involved in Illegal Campaign Money Laundering to Federal, State, and Local Politicians. Larry Mizel, Leonard Millman and David Mandarich never went to jail.
MDC BRIBES A DENVER FEDERAL JUDGE
Denver's head Federal Judge Scamster Criminal Sherman Finesilver covered things up. Finesilver is now sucking retirement off taxpayer instead of being in Jail, laundered his bribes through a Richmond American Homes Bank Account at United Bank of Denver, to Obstruct Justice in the case.
MDC 200 also known as THE KEATING 5
This case was also referred to as the Keating 5, which involved Senator John McCain, George W. Bush's family republican puppet and mouthpiece.
http://www.stewwebb.com/2013/08/15/john-mccains-wife-hiding-war-profits-untaxed-off-shore-accounts/
MDC STOCK & SECURITIES FRAUDS
MDC was the Parent Company of Meyer Blinder Blinder-Robinson National Brokerage Company, Balcor Securities, and The Largest Penny stock frauds of the 1980s.
http://www.stewwebb.com/2013/08/11/iran-contra-frauds-and-the-denver-illuminati-zionist-connection/
MDC IS THE PARENT OF THOUSANDS OF COMPANIES
MDC is the parent of thousands of companies and partnerships, hiding assets from narcotics sales, including:
(The below companies are just a few majors controlled by MDC)
Beneficial Finance Company,
Richmond American Homes,
Wood Bros Homes,
Red Hawk Homes,
Cavalier Homes,
General Homes of Texas,
Janus Funds,
Omni Banks,
Key Bank,
Omni Banks,
Van Schack Realtors,
Asset Investors Colorado Largest Financial Institution which peddles Mortgages to wall street bond investors, these mortgages are derived from Narcotics Money Laundering, Iran-Contra alive and well today.
MDC WAS INVOLVED IN IRAN/CONTRA
MDC is known as Frauds, Narcotics, Scamsters, Blackmailers, and Murders are US.
http://www.stewwebb.com/2013/08/12/the-contra-coke-train-the-denver-illuminati-zionist-connection/
MDC DIRECTOR FORMER CIA ATTORNEY FOR BUSH SR.
MDC Director Norman Brownstein was one of the Famous 6 CIA Council of George H. W. Bush when Bush Sr. was CIA Director in the mid 1970s. Those 6 CIA Council today control Trusts to hide the identity of the Bush Crime Family Members.
MDC TIED TO JACKSON STEPHENS AND HILLARY CLINTON
Some of those Trusts were set up by Jackson Stephens of Little Rock, AR. and The Rose Law Firm involving Hillary Rodenhurst Clinton.
MDC DIRECTOR BROWNSTEIN- PAID CLINTON'S LEGAL BILLS
Norman Phillip Brownstein is a Director of Chubb Insurance Company that paid off Paula Jones, Bill Clinton's lover and Clinton legal fees.
Chubb Identity Company of Denver is an old right wing cabalist CIA Company controlled by Leonard Millman.
Norman Brownstein, Steve Hoth and Allen Karsh  Denver law firms are attorneys for Leonard Millman and George HW Bush, George W. Bush's Criminal father.
MDC DIRECTOR LYONS TIED TO WHITEWATER SCANDAL
James M. Lyons Director of MDC was involved in the Whitewater Development the Saving & Loan Scandal with Bill & Hillary Rodenhurst Clinton involving Twin Cities Bank of Little Rock, AR., Madison Guarantee Bank and Beach Federal.
MDC DIRECTOR LYONS CLINTON'S ATTORNEY
James Lyons a MDC Director was Bill & Hillary Clinton's Attorney.
MDC HUD SCAMSTERS
Phil Winn MDC Director was the former FHA Commissioner in the 1980s and was indicted and convicted for frauds at HUD, which I, Stew Webb, was involved in exposing the HUD scandal hearing before the U.S. Congress in 1989. Asst. HUD Secretary Phil Winn, Asst. HUD Secretary Phillip Abrams, HUD Secretary Samuel Pierce, MDC Director Ray Baker, Asst. HUD Secretary Silvio DeBartolimous, Millman's brother-in-law Denver Attorney Allen Karsh were know as The Winn Group of Denver, all insiders at MDC.
DENVER ATTORNEY ALLEN KARSH NARCOTICS SMUGGLER
Allen Karsh controls hundreds of trusts and companies for Leonard Millman who faked his death in 2004 now hiding in Cuba. Allen Karsh operates Karsh Investments which imports Cocaine from Mexico through seafood that comes by jet 2 times per week to Denver.
http://www.stewwebb.com/2013/08/15/john-mccains-wife-hiding-war-profits-untaxed-off-shore-accounts/
DENVER NARCOTICS DEALER PETER BROPHY
Those Narcotics are then transported to Peter Brophy Pelican Pete's Restaurant in Boulder Colorado and stored in a secret bomb shelter under the basement.
DENVER STRIP JOINTS AND BARS
Then the narcotics are sold at Shotgun Willies, and other Strip Joints owned and controlled by Larry Mizel, Leonard Millman, Norman Brownstein, and others, using a front named Bobby Rifkin of Denver.
MDC DIRECTOR CONTROLS AIMCO
Norman Brownstein MDC Director and now MDCs Attorney of record, is a Director of AIMCO a cut out company that was set up to hide the 500,000 HUD stolen apartment units, stolen by the MDC Holdings criminals during the 1980s. These apartment units are estimated to be worth over 120,000 each. AIMCO is the USA largest landlord of apartments.
MDC DIRECTORS STOLE 79,000 HUD HOUSES IN THE1970s
MDC and its Directors were involved in the theft of over 79,000 HUD reposed HUD house that suddenly disappeared off of HUD computers during the 1970s, and later were being sold and financed by The Winn Group and Winn Financial during the 1980-1990s. (This is a scandal that has never been revealed before by me Stew Webb, more will come in the next few weeks)
MDC JUNK BOND DAISY CHAIN WITH MICHAEL MILKEN
http://www.stewwebb.com/2013/08/11/junk-bond-daisy-chain-frauds-the-denver-illuminati-zionist-connection/
NEIL BUSH, CHARLES KEATING, GENE PHILLIPS
MDC was heavily involved in the Michael Milken Junk Bond Daisy Chain Frauds involving Charles Keating, Lincoln Savings, Silverado Savings, Neil Bush, Norman Brownstein, Larry Mizel, Leonard Millman, South Mark Corp of Dallas, Gene Phillips the S&L Scamster who now runs Mizel Petro resources of Canada an MDC subsidiary company.(See: The Junk Bond Daisy Chain Frauds by Stew Webb)
MDC SUBSIDIARY M&L BUSINESS MACHINES COMPANY
MDC subsidiary M&L Business Machines Company Collapsed Capitol Federal Savings of Aurora, Colorado from milking it dry with real estate loan frauds in 1990 involving Phil Winn, Larry Mizel, Leonard Millman, Norman Brownstein and Denver Nuggets owner Vince Burella.
MDC/ M&L LAUNDERED BILLIONS IN NARCOTICS MONEY FROM CLINTONS-OLLIE NORTH'S IRAN/CONTRA
M&L laundered Billions of Dollars in Narcotics Monies from the Mena, AR. Iran Contra drug operations involving Bush, Clinton's, Ollie North, Jackson Stephens and others.
MDC/ M&L LAUNDERED BRIBES ANDS PAYOFFS
M&L laundered Bribes and payoffs of Denver Judges, Prosecutors, and Government officials to Obstruct Justice and maintain a cover-up.
MDC/ M&L LAUNDERED CHARLES KEATING'S STOLEN FUNDS
M&L laundered tons of Charles Keating's Lincoln Savings stolen investor monies.
MDC/ M&L LAUNDERED STOLEN FUNDS FROM COLORADO FOR COLORADO ATTORNEY GENERAL GALE NORTON
M&L Laundered Attorney Checks from the State of Colorado of attorney that never existed. Those attorney checks were deposed into Colorado Attorney Gale Norton's M&L Investor Account. Gale Norton is George W. Bush's Secretary of Interior.
MDC DIRECTOR CIA ATTORNEY NORMAN PHILLIP BROWNSTEIN
NARCO MONEY LAUNDERING AS DIRECTOR OF CITI CORP.
Gale Norton after covering-up the Frauds in Colorado went to work as a junior law partner at CIA Attorney Norman Phillip Brownstein's office in Denver. Brownstein has offices in Denver, Washington DC and Mexico City, Mexico. Brownstein as Director of Millman's CITI Bank Citi Groups laundered Narcotic Monies through CITI Bank for the former President of Mexico.
MDC OWNER LEONARD MILLMAN'S OTHER COMPANY CITI CORP. PLEAD GUILTY TO TREASON-TRADING WITH THE ENEMY
CITI Plead Guilty to Treason last year and paid a $2,500.00 fine. (See Trading with the enemy Table of Contents)
MDC BLACKMAILED A SENATOR-CHILDREN FOR SEX
MDC was involved in Blackmail of Government Officials involving Children for Sex. MDC paid for Trips for Senator Barney Frank so he could molest a 17 year old Mexican Boy on an MDC Yacht. Half the Congress and Senate have a small percent ownership in a HUD apartment deals involving MDC. This is the way Millman controlled the whores in the Congress and Senate.
MDC WAS INVOLVED WITH DENVER INTERNATIONAL AIRPORT FRAUDS
MDC was involved in the Denver International Airport Frauds, and Denver Airports Secret Underground Facility. (See Stew Webb Federal Grand Jury Motion to present Aug. 6, 2004)
Denver Secret Underground Airport by Stew Webb
http://www.youtube.com/watch?v=3paz7SWn7JY&feature=share&list=UURm28abBgKXHY9BGdGwHsdw

MDC/ LAUNDERED STOLEN AND MISSING ENRON PENSION FUNDS
MDC has stolen Enron assets, MDC Director Norman Brownstein was involved in laundering Enron assets through Leonard Millman's CITI Corp Bank, and Brownstein is a Director of CITI Group.
MDC BROWNSTEIN ALSO DIRECTOR OF GLOBAL CROSSINGS
Brownstein also was a Director of Global Crossings, and many other MDC
Pension Fund Frauds that have milked investors for nearly 10 Trillion dollars.
MDC BROWNSTEIN WAS INVOLVED IN FINANCING AL QUEDA 9-11 WTC DEATHS THROUGH GLOBAL CROSSINGS AND CITI CORP.
Through Leonard Millman's Waymark Foundation the Israeli Terrorist got their paycheck.
RICHMOND HOMES COOKING THEIR BOOKS
MDC Holdings is currently cooking its books involving Richmond American Homes, forcing up its stock prices from its value of 10.00 a share to around $30.00 per share, by reporting houses that have never been built.
Another Millman company KB Homes formerly Kauffman Braud is also cooking its books like Richmond American, which has helped bust out Fannie Mae.
MDC & GEORGE W. BUSH STOLE 300 MILLION FROM HUD
Leonard Millman, Larry Mizel, US Mortgage Company, Asst. US Attorney Kauffman of Denver, US Department of Justice Inspector General Lee Redick, Asst. Inspector General David Mann, US Attorney Denver Mike Norton, and many others were involved in stealing and defrauding HUD The Department of Housing and Urban Development with White House Occupant Criminal George W. Bush. This Fraud involved stealing 300 million dollars from HUD through a scam of independent contractor frauds were George W. Bush and those named and unnamed herein acted as contractors for the HUD reinsurance programs. These funds were to be turned over to HUD after a processing fee was taken for processing services. Instead George W. Bush and the other flat stole the monies and put the blame on several innocent men whom served illegal prison terms. One person served 10 years and was never involve. This was to cover up George W. Bush and others theft of $300 Million stolen from HUD. Steal from the Government and become the White House Occupant.
(See George W. Bush the American People want the $300 Million back you stole from HUD by Stew Webb)
MDC FOUNDER LEONARD MILLMAN'S PARTNERS
"THE BUSHES" AND THE NEW CIA DIRECTOR PORTER GOSS
Leonard Millman was further a partner of George H. W. Bush, Jeb Bush, Neil Bush, George W. Bush and CIA Director Porter Goss and others were all involved in the Famous Gulf Stream Land Investment Group of Florida, which was the largest financial rip-off of Saving and Loans, Banks and investors. Millman was also partners with Neil Bush, and Jeb Bush in Florida Narcotics Smuggling Operations, and the ownership of National Gulf Stream Aviation Company Warehouses at Boca Raton, Florida. These warehouses with N. Bush Director and L. Millman Director Stores Narcotics and so much cash at times that the doors to the hanger cannot be closed.
UN FOOD FOR OIL SCANDAL
MDC LEONARD MILLMAN WAS THE IRAQ/GATE, BNL BANK, GULF WAR SYNDROM SCANDAL WITH GEORGE H. W. BUSH
The warehouse Hangers were used in the Iraq-Gate/BNL/Gulf War Syndrome Scandal as a storage facility for the Cherry Juice, also known as the bio chemical agents sold to Iraq illegally during the 1980-1990s. Those chemical Saddam Hussein used to kill the Kurds in Northern Iraq that Hussein is now on trial for mass murder.
MDC IS NAMED IN STEW WEBB'S FEDERAL GRAND JURY DEMAND AUG. 2004 DENVER FEDERAL COURT case Number 95-y-107.
Why are George H. W. Bush, Jeb Bush, Neil Bush and other not on trial with Iraq Leader Saddam Hussein? I could write thousands of pages of these ties, and put up thousands of documents, but this could get many of my witnesses killed that I need for my Federal Grand Jury Demand July 3, 2004, and my current restraining order against the Bush Regime.
MDC created Mortgages on houses they never build and duplicate mortgages up to 9 times that they bought and sold to pension funds and banks that lead to the 2008 bank bailout and worldwide financial collapse. Now they have derivatives those fake mortgages.
$100 Trillion created in fake mortgages.
$5,000 Trillion in derivatives.
12.5 million People have had they homes stolen from them who were paying their mortgage that these criminal claimed they owned the mortgage and their scam continues as U.S. Attorney General Eric Holder covers for This Illuminati Zionist Organized Crime Syndicate.
Stew Webb SEC Whistleblower Complaint and letter to New York Attorney General and New York U.S. Attorney:
http://www.stewwebb.com/Letter_to_NY_Attorney_General_US_Attorney_SEC_Attorneys_20121005.htm
MDC FOUNDER LEONARD MILLMAN faked his death in 2004 now living in Cuba with a 26 year old pregnant wife. Elaine Millman his former widow thinks he is dead if she only knew she would cut his b___s off. 
Leonard Millman's net worth $100 Trillion
George HW Bush's net worth $100 Trillion
MDC Chief Executive Officer Larry Mizel, who runs MDC for Leonard Millman and George HW Bush are all Satanist who do Human Sacrifices in Denver on June 21, and December 22 each year.
Denver Illuminati Busted June 21, 2013
http://www.stewwebb.com/2013/06/29/illuminati-council-of-13-busted-human-sacrifice-denver-june-21-witching-hour/
Leonard Millman's daughter Kerre Millman, WhistleBlower Stew Webb's ex witch.
Kerre Millman child abuse now adult syndrome a total mental case.
http://www.stewwebb.com/Kerre_Millman_Autobiography_1973_Stephens_College.htm
"FRAUDSTERS, SCAMSTERS, NARCOTICS MONEY LAUNDERERS, BLACKMAILERS, MURDERERS, IRAN CONTRA PLAYERS ARE US AT M.D.C. HOLDINGS, INC. OF DENVER
I could write thousands of pages of the MDC Frauds.
Anyone reading this can easily see this company and these criminals need to be shut down and put behind bars.
http://www.nyse.com/about/listed/lcddata.html?ticker=mdc
http://www.richmondamerican.com/
http://www.richmondamerican.com/Contact-Us/Channel-Landing.aspx?Overview=2
FRAUDS ARE US AT MDC-NYSE The Denver Illuminati Zionist Connection
FRAUDS ARE US AT MDC-NYSE The Denver Illuminati Zionist Connection
Donations are much appreciated thank you
http://www.stewwebb.com
Comment:
Preston James, Ph.D
August 18 2013
As usual another most excellent article by Stew Webb, foremost Federal crime whistle-blower, a man whose outrageous claims just always seem to end up validated, time after time. Stew's accuracy has been proved to be stunning many times over in the past, because he saw many of thse matters closeup and was victimized by these perps.
Stew fully exposes these RICO criminal slime-balls who have sold their souls to obtain luciferian annointing and huge riches and power. Their perversions and serial murders are monstrous and their evil is so great that it is incredulous to most unless well informed about high level USG Rico and banking crimes. Judgment is coming to these slime-balls and it won't be long. When the SHTF they will be thrown under the bus along with their compatriots fellow Rico criminals.