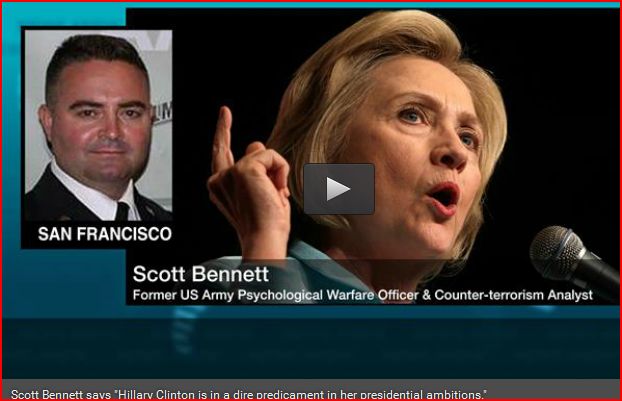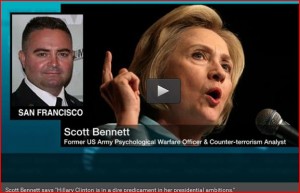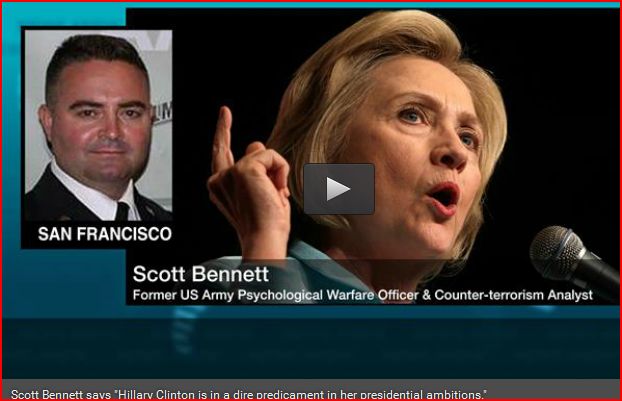 Clinton appealing to US war hawks

US Democratic presidential contender Hillary Clinton's support for a no-fly zone over Syria is an attempt to "gain relevance" and appeal to American war hawks, says a counter-terrorism analyst.
"Hillary Clinton is in a dire predicament in her presidential ambitions, quickly evaporating and disappearing into the sunshine of revelations of what she has done and who she really is," Scott Bennett said on Wednesday.
The former US Army psychological warfare officer made the comments in reaction to Clinton's remarks in which she expressed support for the idea of a no-fly zone over Syria with Russia's help.
"I think it's complicated and the Russians would have to be part of it, or it wouldn't work," Clinton said Tuesday at a campaign event in Davenport, Iowa.
Bennett told Press TV he believes Clinton has become irrelevant in the eyes of the American public.
"She is desperately flailing about in trying to gain relevance," he said. "She is trying to gain the support of American war hawks."
He said Clinton is trying to position herself as a "strong voice" for the US-backed militants crossing borders into the Arab country, while seeking to appeal to a liberal base who favor close ties with Russia.
"They know Russia is necessary and they are beginning to see increasingly that Russia holds the key to stabilizing the Middle East," Bennett added.
President Barack Obama on Friday rejected the idea of a no-fly zone over Syria, dismissing Clinton's statement as campaign rhetoric
"I think Hillary Clinton would be the first to say that when you're sitting in the seat that I'm sitting in in the situation room, things look a little bit different. Because she's been right there next to me," he told reporters.
Russia has also rebuffed calls for a no-fly zone inside Syria because, according to the country's Deputy Foreign Minister Mikhail Bogdanov, it violates the UN Charter and breaches Syria's sovereignty.
http://www.presstv.com/Detail/2015/10/07/432371/Scott