Operation Synapse By Dr. William Croft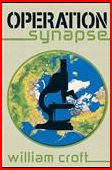 The practice of treating the energy-based human body with contraindicated pharmaceutical drugs has proliferated within the last 100 years and is now the leading cause of death in society. The treatment of environmental pests using many non-definitive pesticides has brought an additional load of poisons to the human and animal body. Continual use of these archaic chemicals has led to great insurance risk for the industry, forcing them to come up with a diversion for these poisoning effects. The insurance industry joins with bioterrorists, who are masters in disease generation, to manufacture and inflict a highly infectious disguise disease on society, which can also be used as war weapon. These bioterrorists are now capable of telepathically activating biological war weapons. A couple comes back from the future to discover, solely identify and disclose the fraudulent use of this disguise disease controlled by the Al- Qaeda that has now infected every human and animal on the planet. How can they bring the world back from such devastation before a large percentage of the population dies? What can be done? Anatomical pathology of a dead Montana whitetail deer reveals that humanity is faced with this life-threatening enigma.
Click on link below to order Price and order book:
http://bookstore.authorhouse.com/Products/SKU-000423327/Operation-Synapse.aspx
Note from Stew Webb:
Dr. William Croft a friend has done several Radio interviews with me as a co-guest discussing Mold Epidemic in America.
Whistleblowers US Intel Breaking News
Now on Computers, Mobile and Tablets
http://www.stewwebb.com
http://www.veteranstoday.com/author/swebb
Stew Webb Founder:
You did not Vote them in but you can remove them!
http://www.recallpetitions.com
Now you can leak it
http://www.wikiarmy.com
July 2013 Fund Raiser
https://fundrazr.com/campaigns/fXc61
Also contribute through
http://www.stewwebb.com