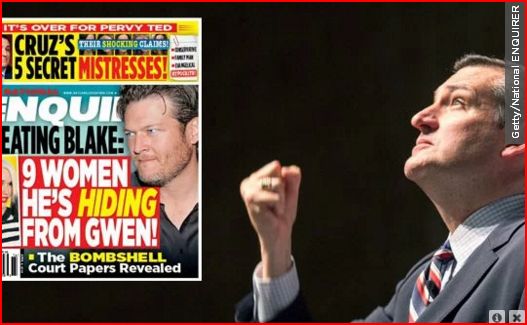 SHOCKING CLAIMS: Pervy Ted Cruz Caught Cheating — With 5 Secret Mistresses!
The romps that could destroy his presidential campaign!
Presidential candidate Ted Cruz is trying to survive an explosive "dirt file" on the finger-wagging conservative senator!
And the new issue of The National ENQUIRER — on newsstands now — reveals how the reports say the staunch Republican is hiding FIVE different mistresses!
PHOTOS: Paula Jones: Hillary Clinton 'Allowed' Husband Bill To Go After Women!
"Private detectives are digging into at least five affairs Ted Cruz supposedly had," claimed a Washington insider.
"The leaked details are an attempt to destroy what's left of his White House campaign!"
The ENQUIRER reports that Cruz's claimed mistresses include a foxy political consultant and a high-placed D.C. attorney!
PHOTOS: Barack And Michelle Obama: Secrets And Scandals Of The White House Marriage
There are also whispers of other intimate late-night sessions Ted has had in Washington — and even a wild sex worker makes the cut!
Get the full list of ladies in Ted Cruz's Mistress File — only in the new National ENQUIRER, on newsstands now!
http://www.nationalenquirer.com/celebrity/ted-cruz-sex-scandal-mistresses-cheating-claims
Related:
Lying Ted Cruz by Donald Trump
http://www.stewwebb.com/2016/03/20/lying-ted-cruz-donald-trump
Ted Cruz Deceiver Father of North American Union
http://www.stewwebb.com/2016/03/02/ted-cruz-deceiver-zion-father-north-american-union
Ted Cruz Wife Former George W. Bush NSA Stooge
http://www.stewwebb.com/2016/02/28/ted-cruz-wife-former-george-w-bush-nsa-stooge
Proof   Ted Cruz Not Eligible for US President born in Canada
http://www.stewwebb.com/2016/01/07/proof-ted-cruz-not-eligible-for-us-president
Stew Webb Radio Network
Listen Live
US Intel Breaking News
http://www.stewwebb.com
Listen live by phone
712-775-8269
federalwhistleblower@gmail.com