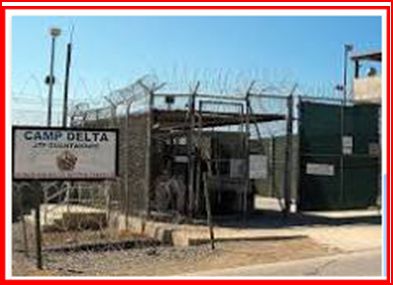 It can now be reported that: PRESIDENT OBAMA'S DECISION TO CLOSE GUANTANAMO BAY, CUBA WAS ORDERED BY THE SECRET U.S. MILITARY COURT NOW OPERATING IN WASHINGTON , DC ALONG WITH THE MICHIGAN AND TENNESSEE FLAG OFFICERS.
SEVEN OF THE DETAINEES PREVIOUSLY HELD AT GUANTANAMO BAY HAVE BEEN FLOWN TO WASHINGTON, D.C. AND WILL  NOW APPEAR IN FRONT OF THE U.S. MILITARY COURT. THE SEVEN FORMER GUANTANAMO BAY PRISONERS ARE ACTUALLY DEEP COVER U.S. CIA ASSETS WHO CAN UN LOCK THE SECRETS OF NAZI GEORGE W. BUSH FRAUDS 911 CIA SKULL AND BONES BLACK OP.
PS: THE US MILITARY COURT IS ALSO IN POSSESSION OF ONI TAPES FROM OCT OF 2000 IN WHICH THEN LIFELONG CIA STOOGE PRESIDENT BILL CLINTON TALKS DIRECTLY WITH THEN TEXAS GOVERNOR GEORGE W. BUSH, THE NEED TO CORRUPT THE VOTERS NEWS SERVICE IN THE STATES OF WEST VIRGINIA, TENNESSEE , NEW MEXICO, MISSOURI AND NEW HAMPSHIRE USING A NSA PRO BUSH FRAUD VIRUS.
BILL CLINTON ALSO HAD TALKS WITH THEN GOVERNOR JEB BUSH OF FLORIDA ON THE URGENCY TO ILLEGALLY PURGE 70,000 OR MORE AFRICAN AMERICANS FROM THE VOTER ROLLS IN FLORIDA AS TO AND I QUOTE CLINTON KEEP GORE OUT OF THE WHITE HOUSE AT ALL COSTS THE US IS NOW ON THE BRINK.
NOTE: THE CLINTON JUSTICE DEPT AND SCUMBAG ASST. ATTORNEY GENERAL ERIC HOLDER IGNORED 7 CRIMINAL REFERRALS FROM FLORIDA VOTING OFFICIALS NAMING GOVERNOR JEB BUSH AND FLORIDA SECRETARY OF STATE KATHERINE V. HARRIS AS CRIMINAL CONSPIRATORS IN THE VIOLATION OF THE VOTING RIGHTS ACT OF 1965.
SCUMBAG ERIC HOLDER WAS TOO BUSY NEGOTIATING THE PARDON OF BUSH CLINTON CRIME FAMILY BAG MAN MARK RICH AND DENVER HUD SCAMSTER PHIL WIN.
CLINTON NAMED AS LONGTIME SPOOK-CIA
http://www.stewwebb.com/2014/01/29/clinton-named-as-longtime-spook-cia
Bush – Millman – Clinton Organized Crime Family Chart
http://www.stewwebb.com/2013/08/11/bush-millman-clinton-zionist-organized-crime-family-flow-chart-1
Stew Webb Saving and Loan whistle blower faces federal charges
http://www.stewwebb.com/2013/10/08/sl-whistleblower-faces-federal-charges
Stew Webb Radio
Breaking News
http://www.stewwebb.com