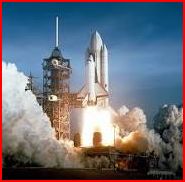 In Memory of Space Shuttle Challenger Whistleblower Edward Laughrin (murdered)
By Stew Webb
Federal Whistleblower
January 28, 1986 the Space Shuttle Challenger was reported to have exploded in midair. This was the U.S. Governments official report in mid 2011 I met Whistleblower Edward Laughrin who contacted me and had been following my work for a few years. Ed and I became friends over a period of time and talked daily for nearly a year until his murder in may 2012.  I had not heard from Ed in several days and had tried to contact him and could not. Finally after 2 weeks and several calls I talked with Ed's wife who told me what had happened. She stated "Ed had answered the cell phone and someone stated they were going to rape his wife in front of him and kill him after they were through".  Ed, according to his wife discharged the phone from his hand as though he had been shocked and within a minute Ed fell to the ground and had a massive obviously induced heart attack.
His wife, a nurse revived him, called 911 when they arrived he flatlined on the porch before being transported to the hospital.
Ed did the interview below with Kerry Cassidy, about the Space Shuttle Challenger and how his Naval Ship pulled up to the Challenger floating and beginning to sink and he saw someone alive waving from the cockpit of the Challenger his crewman began the rescues with hooks and cable to keep the Challenger from sinking when they Ships Commander got a call to abort and chase off a nearby Russian Vessel they questioned the orders from higher ups and then followed the orders while crew members saw the Space Shuttle Challenger sink.
Rest in Peace my friend Ed Laughrin and see you on the other side one day.
Uploaded on Nov  6, 2011
Ed Laughrin is a retired ex-Navy/intelligence specialist with a background in ballistics who in his spare time has thoroughly investigated the Kennedy assassination. In this recorded phone call he describes the exact trajectory of the bullets fired during the event.
This audio interview was recorded without pretense or preparation due to an impending operation Ed was about to undergo where he wanted to make sure that his testimony was taken by someone who would document for the public the areas of his research.
From that point we moved onto the Challenger disaster because as it happens, he was onboard the first Navy vessel to encounter the downed capsule when it hit the water after the crash. What he reveals here is clear evidence of supreme negligence on the part of NASA which leads to the possible conclusion that there was malice and intent in this lack of action to save our astronauts.
This testimony brings into sharp relief evidence of a organization working toward a particular agenda that does not safeguard the well being of Americans and specifically our astronauts under circumstances whereby the agenda they are working with takes precendence. This is unconscionable.
Prior evidence of the hidden mission behind NASA is well documented by Richard C. Hoagland and Mike Bara in their groundbreaking book "Dark Mission". Highly recommended.
Given the rough quality of this impromptu testimony with regard to the Challenger disaster evidence of negligence obviously requires a great deal more investigation. I encourage researchers to take this testimony and investigate further. There must be others out there who were on board the Navy vessel and witnessed the events causing their ship to be turned away from attempting to rescue the astronauts at that critical juncture.
As we move into the future whistleblowers from within the Matrix who have witnessed events where the agenda of the PTB swings into play and alters the world from that point forward should begin to surface. History was made but it was also witnessed. Those witnesses are everywhere. They are your brothers, sisters, mothers, fathers… As awareness grows they will begin to come forward and the real truth behind the curtain of secrecy will be revealed provided they have the courage to realize that they have nothing to fear but fear itself.
Kerry Cassidy Project Camelot November 6, 2011 http://projectcamelotproductions.com/… http://projectcamelot.org Written transcript now available here: A written transcript is available now as well.  Go to:  http://projectcamelotproductions.com/… –Kerry, Project Camelot
EDWARD LAUGHRIN
Edward G. Laughrin, 60, of Warren, Pa. died Thurs-day, May 3, 2012 at UPMC Hamot, Erie, Pa. He was born April 1, 1952 in War-ren, Ohio to the late Ed-ward William and Margaret Ellen Butler Laughrin. He has resided in Warren since 1988. He was a 1971 gradu-ate of Gerard High School, Gerard, Ohio. While in high school he earned his pilot's license flying light aircraft. He had served in the U.S. Navy as a E4, serving in El Salvador in 1985, Persian Gulf in 1986, and with Spe-cial Operations in 2002. He earned a Sea Service De-ployment Ribbon with 1 Bronze Star Navy Achieve-ment Medal, U.S. Coast Guard Unit Commendation with operational device. He served in the Civil Air Pa-trol 304th Squadron. He was employed with the Warren State Hospital as a psychiatric aide and basic life support instructor retir-ing from there on Sep-tember 11, 2002 after 13 years of service. He was previously employed as a design draftsman from 1973-1984. He graduated from Madison University from the College of Social and Human Relations where he earned a bachelor's degree in Hu-man Relations with a 3.6 grade point average. He was a member of the War-ren American Legion Post 135, a member of the form-er North Warren V.F.W. Post 747 where he had served as Past Commander, a member of the Clarendon V.F.W. and was a 3rd de-gree member of the Warren Knights of Columbus.
He is survived by his wife, Carolyn Ann McKee Laughrin whom he married March 7, 1988 in Titus-ville, Pa., 1 son – Edward R. Laughrin and wife, Niki of Austin Town, Ohio, 3 step-children Tina Hogue and husband, Aaron of Titus-ville, Pa., Rusty Smith and companion, Wendy of Centerville, Pa., Barbie Baker and husband, Art of Tionesta, Pa. 1 gran-daughter – Mackenzie Laughrin of Austin Town, Ohio, 6 step grandchildren – Alyssa Smith of Center-ville, Pa., Ashley Baker, twins – Tera and Tyler Bak-er all of Tionesta, Pa., Eas-ton and Brittany Hogue of Titusville, Pa.
In addition to his parents, he was preceded in death by 1 sister – Mary Fancine Laughrin. Friends may call at the Holy Redee-mer Church gathering space on Thursday, May 10, 2012 from 10 a.m. until 11 a.m. when a Mass of Christian Burial which will be conducted with Msgr. John Lucas, Pastor, officiat-ing. Full military honors will follow mass by members of the Clarendon/Sheffield V.F.W. Funeral Detail. Interment will be in St. Catherine's R.C. Cemetery, Titusville, Pa. Those wishing to place memorials may do so through the Clarendon V.F.W. or the Warren Amer-ican Legion Post 135.
Article Photos
http://www.timesobserver.com/page/content.detail/id/557362.html