Stew Webb Order Signed Sovereign Citizen 1994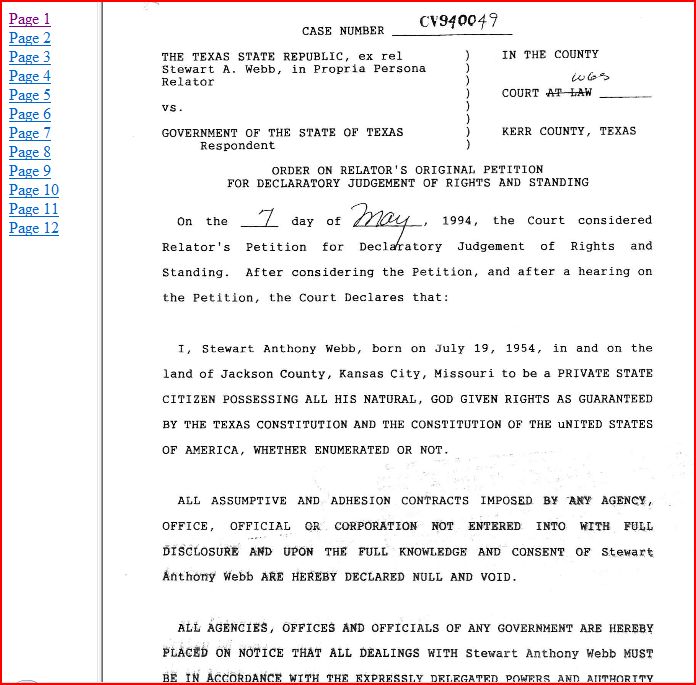 August 23, 2013
Today I was motivated to put this back on my website due to stupidity of others on facebook.com
there I posted a link to my latest series of articles on The Illuminati Zionist Denver Connection and I had been originally
invited to that group by a Radio Talk Show Host. After posting I was banned from the group because the moderator stated
he was not interested in my article. I laughed and now here I am writing a quick report for the edification of others.
The Sovereign Citizens movement has been so infiltrated by the DHS and FBI teaching false filings that get people into trouble.
In 1994 I founded an organization called GOAL Guardians of American Liberties we had 13 subgroups one was sovereign.
I and five others including a Texas Attorney were able to get a Texas County Judge to hear our cases and agree and sign our orders to become Texas Total Sovereign Citizens. Read the order below, the Judge was impeached by the Texas Attorney General six months later for signing the orders. Later in 1997 I and the other 5 and the Judge were written about in the Federal Judges Review about the radical right and the Soveign movement.
Bottom line you are wasting your time.
Maybe you younger truthers can learn a few lessons from some of us older truthers and maybe if you read my new series of articles you also might learn some history of why you are fighting this corrupt Government and the Corrupt Courts and the Lawmakers in Washington that have screwed you and then maybe you will get mad and throw them out which is another lesson you might learn.
Click on link below to view Texas Order:
http://www.stewwebb.com/Stew_Webb_Soverign_Citizen_Order_TX_CV940049.html
Recall Petitions
Stew Webb Founder:
You did not Vote them in but you can remove them!
http://www.recallpetitions.com
August 2013 The Denver Illuminati Zionist Connection by Stew Webb Whistleblower
http://www.stewwebb.com/2013/08/19/the-denver-illuminati-zionist-connection-by-stew-webb-whistleblower/
https://fundrazr.com/campaigns/1aOcb
http://www.stewwebb.com/
http://www.veteranstoday.com/author/swebb/
http://www.stewwebb.com/stew-webb-radio-interviews/
http://www.youtube/stewwebb1