The recent passing of my Mother Rosemary Webb Thursday May 2, 2013 and the response and Condolences of my Supporters, Friends and Family is greatly appreciated. –Stew Webb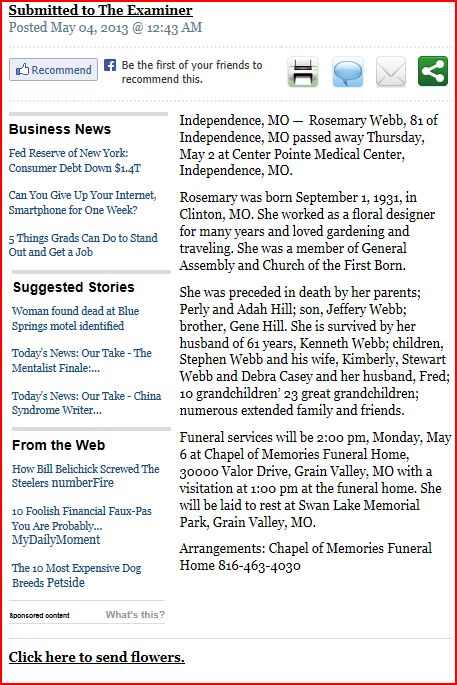 http://www.examiner.net/obituaries/x1424273661/Rosemary-Webb
Rosemary Webb passed away May 2, 2013, 81 years of age the Great, Great, Granddaughter of Orion Porter Rockwell, the Utah U.S. Marshall who saved the Mormons from execution by the U.S. Calvary in the 1800's and forced the U.S. Government into the only 2nd treaty ever in American history by US Citizens, the first being the Indian Treaty. The Independence Jail is a Historical Monument to Orion Porter Rockwell who was accused and found innocent of killing Governor Boggs of Missouri after being held for 14 months at the Historical Independence Jail on the Independence Square for escorting and protecting Christians who wanted to travel to Salt Lake City Utah. Rosemary (Hill) Webb's Great Grandfather who married Orion Porter Rockwell's daughter was a direct descendant from the House of Stuart. Rosemary a Born again Christian who loved and worship GOD-JESUS and was an Artist who started her career with Hill Flower Shop in Independence and Jones Store's Flower and China Department at the Blue Ridge Mall in Independence, Missouri until the 1970's when she went into private Business with over 100's of weddings to her credit. She was a special guest on local Kansas City Talk Shows and Television with Walter Boden among others "the noon hour on local Kansas City Television" with demonstrations of her artist talents of artificial and live flowers as an Artist.  She was involved with community affairs with charities and support of local Public Television Charities (PBS). She leaves here Husband Kenneth Webb of 62 years a former Supervisor of Bendix Corp., 3 sons one who died March 1, 2013, a Daughter and many Granchildren  and Great Grandchildren unnamed. She will be missed dearly.
Rosemary Webb who Passed away May 2, 2013.  Funeral Services will be Monday May 6, 2013 at Swan Lake Memorial Gardens in Jackson County, Missouri. (North East of Blue Spring, Missouri)
Family Services 12:00pm/cst – 1:00pm/cst
Public Visitation 1:00pm/cst- 2:00 pm/cst
Funeral 2:00 pm/cst
Directions: I-70 east of Kansas City to Hwy 7 (left-north) Blue Spring, Missouri north on 7 Hwy to Pink hill Road (right-east) 2 miles to Saughter Road (left-north)  ¾ mile on Right side Funeral Chapel.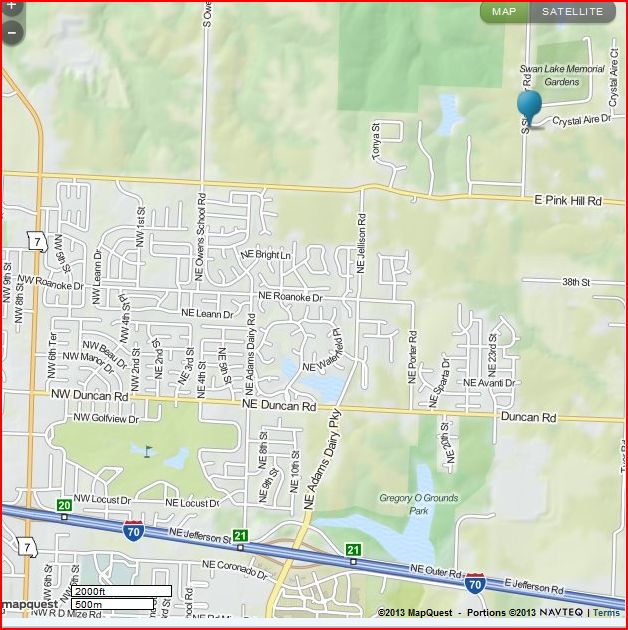 http://www.stewwebb.com/news/the-recent-passing-of-my-mother-rosemary-webb-thursday-may-2-2013/
Whistleblowers US Intel Breaking News Daily
Now on Computers, Mobile and Tablets