Obama Surprise Admissions in Terror Talk
Momentous Speech Debunks a Decade of Press Deceit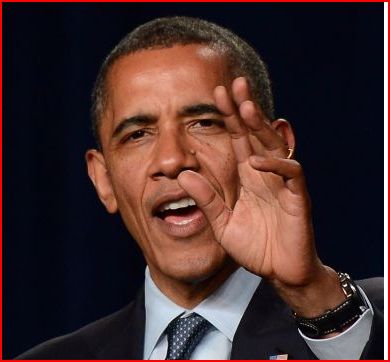 US President Barack Obama speaks during a campaign event at the Fox Theatre in Redwood City, California, on May 23, 2012.
Related Interviews:
It's a shame that no American president can speak openly without "wrapping" their words in hyperbole. Thus, Obama's key speech, making startling admissions of American wrongdoing and mistakes, will be misunderstood and mischaracterized, either because it was incomprehensibly written or purposefully misconstrued.
One key failure of the Obama administration has been his failure to close the illegal detention facility at Guantanamo, Cuba.
However, his statement below and other key areas of his May 23, 2013 policy address may well indicate, not just a final fulfillment of that promise but a beginning to redress some of America's behaviors that have led to so much suffering.
In order to hold someone to account, it is necessary to actually know what has been said. Toward that end, we will look at what President Obama has promised. We will also examine those critical areas that represent a real policy change and, either give credit where credit is due, or if these initiatives are not followed up on, have a rational basis for criticism.
President Obama addresses the issue of Guantanamo:
"So we bring law of war detention to an end, and we are committed to prosecuting terrorists whenever we can.
The glaring exception to this time-tested approach is the detention center at Guantanamo Bay. The original premise for opening GTMO – that detainees would not be able to challenge their detention – was found unconstitutional five years ago. In the meantime, GTMO has become a symbol around the world for an America that flouts the rule of law. Our allies won't cooperate with us if they think a terrorist will end up at GTMO…
As President, I have tried to close GTMO. I transferred 67 detainees to other countries before Congress imposed restrictions to effectively prevent us from either transferring detainees to other countries or imprisoning them here in the United States.
These restrictions make no sense. After all, under President Bush, some 530 detainees were transferred from GTMO with Congress's support… there is no justification beyond politics for Congress to prevent us from closing a facility that should never have been opened.
Today, I once again call on Congress to lift the restrictions on detainee transfers from GTMO.
Even after we take these steps, one issue will remain: how to deal with those GTMO detainees who we know have participated in dangerous plots or attacks, but who cannot be prosecuted – for example because the evidence against them has been compromised or is inadmissible in a court of law. But once we commit to a process of closing GTMO, I am confident that this legacy problem can be resolved, consistent with our commitment to the rule of law."
As there have been no denials as to the accuracy of key aspects of the statement above, congress, long cited as "in thrall" to the AIPAC lobby, is exposed for its active and continuing role in constitutional abuses.
The media, though airing a speech few listened to, purposefully and systematically chose to censor and edit what was actually said.
Were they to have done their job in a manner consistent with free speech and journalistic ethics, the following points would have been paramount:
• President Obama admitted that the United States had backed groups in Syria that are terrorist led and that he believes, if that aid continues, would lead Syria to a period of sectarian slaughter. He didn't vow to end aid to rebels but admitted that rebel military groups are both extremist and radicalized and represent a danger to the world.
• President Obama clearly stated that the United States and engaged in torture in direct violation of international law. No attempt was made to justify American acts nor was any attempt made to describe "waterboarding" as other than torture or attempt to mischaracterize America's illegal acts as limited to waterboarding only. No promise was made, we note, to turn those who took part in such acts or authorized their use, over to the International Criminal Court at The Hague, as is required.
Click on link below to read full report:
http://www.veteranstoday.com/2013/05/26/obama-surprise-admissions-in-terror-talk/
Related Video:
http://www.stewwebb.com/2013/05/24/barack-obama-speach-may-24-2012/
Whistleblowers US Intel Breaking News
Now on Computers, Mobile and Tablets
http://www.stewwebb.com
http://www.veteranstoday.com/author/swebb
http://www.recallpetitions.com