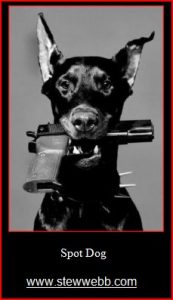 Spot Dog Spot Dog is Rabbit and Enraged, Drain the Swamp and Lock them Up.
President Donald Trump American Revolution Continues

Billy Joel's official YouTube channel features music videos,
live performances, interviews, TV appearances and more.
Best known for his first hit song, 'Piano Man', in 1973,
Billy has written and recorded thirty-three Top 40 hits in the
United States. He is a six-time Grammy Award winner, a 23-time Grammy nominee and one of the world's best-selling artists of all time, having sold over 150 million records worldwide. Billy Joel is the sixth-best-selling recording artist and the third-best-selling solo artist in the United States.
Lyrics:
You have to learn to pace yourself
Pressure
You're just like everybody else
Pressure
You've only had to run so far
So good
But you will come to a place
Where the only thing you feel
Are loaded guns in your face
And you'll have to deal with
Pressure
You used to call me paranoid
Pressure
But even you cannot avoid
Pressure
You turned the tap dance into your crusade
Now here you are with your faith
And your Peter Pan advice
You have no scars on your face
And you cannot handle
Pressure
Contributions are very much appreciated thank you-Stew Webb