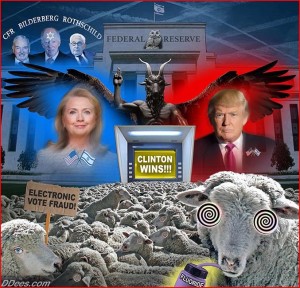 By Tom Heneghan and Stew Webb
Hillary Clinton (Bitc_) Equals Microsoft Bush Frauds
IOWA GATE 2016 EQUALS FLORIDA GATE 2000
IT CAN NOW BE REPORTED THAT THE IOWA DEMOCRATIC PARTY ALONG WITH MICROSOFT COMMITED MASSIVE VOTE FRAUD ON BEHALF OF NAZI NEO CON LESBIAN HILLARY RODENHURST CLINTON AND BLANTLY STOLE THE IOWA ELECTION FROM SENATOR BERNIE SANDERS THE IOWA DEMOCRATIC PARTY INSTALLED A MICROSOFT WORD PATH PROGRAM IN THE COMPUTER THAT WAS USED TO REPORT THE VOTING RESULTS THE MICROSOFT PROGRAM KEPT HILLARY IN THE LEAD ALL NIGHT SIX RIGGED COIN TOSSES INSIDE THE IOWA VOTING SIGHTS WERE USED TO AWARD HILLARY 4 FRAUDULENT DELEGATES IN IOWA AT THIS HOUR THE IOWA DEMOCRATIC PARTY REFUSES TO RELEASE THE ACTUAL RAW VOTE COUNT IN IOWA IOWA GATE 2016 EQUALS FLORIDA GATE 2000.
Related Vote Fraud:
Sanders Campaign Says It Was Informed By Iowa Dem. Party That Results From 90 Precincts Are Missing
CNN reported that the Iowa Democratic Party said it would need to "re-stage" the results of the caucuses in those 90 counties.
The Sanders campaign said the Iowa Democratic Party had asked the campaigns to "help them out."
http://www.theblaze.com/stories/2016/02/02/sanders-campaign-says-it-was-informed-by-iowa-dem-party-that-results-from-90-precincts-are-missing
Iowa Democratic Party Says Results From 90 Precincts Have Gone Missing. UPDATE: Sanders Campaign Says As Much As 5% Of Iowa Vote Is Missing…
The Iowa Democratic Party informed the campaigns of Hillary Clinton and Sen. Bernard Sanders late Monday night that it has no results for 90 precincts across the state, which could account for as much as 5 percent of the total vote. And the party has asked the campaigns for help in getting a tally for those missing results.
"We are, right now, calling all our precinct captains on precincts where we have knowledge of what's missing, to report what we think happened there," a visibly irate Robert Becker, Sanders' state director told Roll Call after Sanders' speech at the Holiday Inn near the Des Moines airport."They've asked the other campaigns to do the same thing. At the end of the day, there's probably going to be squabbles on it," he added.
http://www.weaselzippers.us/254383-breaking-iowa-democratic-party-says-results-from-90-precincts-have-gone-missing
Iowa Democratic Results Missing in Some Precincts: Des Moines Register
State party sought assistance of Hillary Clinton, Bernie Sanders campaigns in compiling results from more than a dozen precincts, the Des Moines Register reports.
We have reached out to the campaigns for help in contacting the chairs for our outstanding precincts," state party says in statement to the newspaper
• "We are not taking results from the campaigns. We are taking them from the chairs who are in these precincts"
http://www.bloomberg.com/politics/trackers/2016-02-02/iowa-dem-results-missing-in-some-precincts-des-moines-register
Stew Webb Radio Network
Listen Live
Breaking News
http://www.stewwebb.com
Listen live by phone
712-775-8269
federalwhistleblower@gmail.com