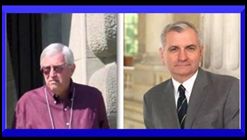 Ambassador Leo Wanta Murder Plot on Tape
via SatCom 7777
Whereas, The President of the United States of America, having signed H.R. 3723 on October 11, 1996, has protected this transaction by allowing Corporations the right to declare their Contracts, Clients, Internal Procedures and Information, and the transactions they engage in as a Corporate or Trade Secret fully protected under the Economic and Industrial Espionage Laws of the United States of America and the International Economic Community.
Inasmuch, the names, identities, bank coordinates and other identifying information of persons or entities that are party to this transaction, contained herein, or learned hereafter, shall be a Corporate Trade Secret that shall not be disseminated or other than as provided for herein, or as allowed under applicable law. Any unauthorized Disclosure of this Private Transaction, parties to, or other material fact of, shall subject the violators to Criminal Prosecution.
~~~~~~~~~~~~~~~~~~~~~~~~~~~~~~~
SigInt Authority : Falconbird / Cumberland via Promis Software, Inslaw Inc. ( Washington, DC )
S-31-IANO / SA32NV / U.S. CUSTOMS SERVICE               INTERNAL AFFAIRS / NEW ORLEANS
SIMPLE QUESTION:  WILL OUR "FELLOW AMERICANS" SERVE AND PROTECT OUR UNITED STATES CONSTITUTIONAL REPUBLIC?
UNITED STATES SENATOR and FORMER STATE GOVERNOR, et al
PLOT THE MURDER OF AMBASSADOR LEO EMIL WANTA,
S.D.R. DIPLOMATIC PASSPORTS No. 04362, 12535
http://beforeitsnews.com/alternative/2018/03/senator-gov-plot-murder-on-tape-3601797.html
USDollars 475 TRILLION – LESS THE  35% REPATRIATION CIVIL INCOME TAX PAYMENT [ U.S. DISTRICT COURT FOR THE EASTERN DISTRICT OF VIRGINIA – CASE No. 02-1363-A and Civil Action No. 1:07 cv 609 T3E/BRP ] WAS TO BE PAID TO AMBASSADOR LEE EMIL WANTA.
                                  " PuppetMasters in Control ! " 
" IN GOD WE TRUST "
https://www.youtube.com/watch?v=mfcnyn-XHP0
Publisher – International Currency Review / London
https://mainerepublicemailalert.com/2016/05/30/high-speed-rail-american-jobs/
https://ameritrustusa.wordpress.com/2017/09/22/benjamin-fulford-9-19-17-urgent-questions-from-a-political-prisoner-re-leo-wanta-the-dc-clone-situation-preston-james-2/
https://www.youtube.com/watch?v=mH5feuHO000#action=share
[ THE STORY OF LEO WANTA AND THE MISSING $27 TRILLION THAT WOULD CHANGE THE WORLD ]
http://www.tomheneghanbriefings.com/Wanta-Reagan-Mitterrand-Protocols-Release-Are-Imminent_10-31-2017.html
http://eagleonetowanta.com/wp-content/uploads/2017/01/U.S.-President-R-W-Reagan_Totten-Doctrine_92-U.S.-105.pdf
https://nook.barnesandnoble.com/products/2940150998438/sample
https://www.youtube.com/watch?v=F_3jgv6fRzM
https://vimeo.com/user16311094/review/160965789/b57fb62f43
via SatCom 7777
Sent : Saturday, March 24, 2018 10:44 PM
Subject : Clinton Foundation – Open Records – Tax Return – 6% went to a Charity. Hillary  Clinton ( a.k.a.  Queen Melasina )  personally  kept a mere 94%.
Clinton Foundation Open Records Tax Return. 6% went to charity. Hillary kept 94%.