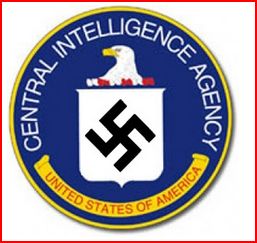 Redux: Nazi CIA Traitor Michael Morell Revealed
By Tom Heneghan, International Intelligence Expert
UNITED States of America   –   It can now be reported that the U.S. Military Michigan and Tennessee Flag Officers are prepared to decapitate the NAZI Paperclip Bush-Clinton CIA within 48 hrs.
Definition:  CIA now stands for "CRIMINALS IN ACTION"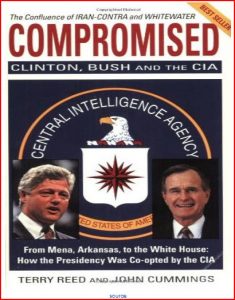 We can now report that the patriotic U.S. Military Flag Officers have the power now to immediately arrest CIA stooges Bill and Hillary Clinton, CIA mastermind George Herbert Walker Bush, former year 2000 illegal occupant junior George W. BushFRAUD, along with former Florida governor, year 2000 presidential election stealer, Jeb Bush, and finally Barbara Bush aka the "Bookkeeper", and just like Hillary Clinton, a 7th degree satanic witch.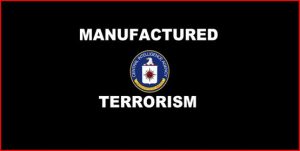 The U.S. Military Flag Officers have now documented the crimes of the NAZI Paperclip treasonous CIA dating back to the assassination of President John F. Kennedy, the 1970s staged psy op coup d'état against then President Richard Nixon, the Bush-CIA Crime Family direct conspiracy to have then President Ronald Reagan assassinated in early 1981 using Bush Crime Family crony John Hinckley aka George Humphrey as the assassin.
The U.S. Military Flag Officers have also concluded that the crash of the U.S. helicopters in October of 1980 aka the failure of then President Jimmy Carter to free hostages held in Iran held by Iranian Mullahs aka Israeli Mossad assets was an act of TREASON perpetrated by the CIA on the orders of then Republican Vice Presidential candidate George Herbert Walker Bush.  This is commonly known as the "October Surprise".
Note:  The recent $400 million ransom payment made to the government of Iran in exchange for the release of U.S. military personnel, which was done in unmarked Swiss and Euro currency, was a residual payment to U.S. CIA and Israeli Mossad assets still operating in Iran dating back to the days of the U.S.-Iranian hostage crisis in 1980 aka the "October Surprise".
At this hour, current illegal FOREIGN BORN closet Muslim alleged pResident CIA stooge Barack Hussein Obama Soetoro, and current U.S. Secretary of State, George W. BushFRAUD's 3rd cousin, 'Skull and Bonesman' John Kerry Cohen, face immediate house arrest by our patriotic U.S. Military Flag Officers.
The U.S. Military Flag Officers has also connected the dots to the theft of $27.5 TRILLION in U.S. Treasury funds to the nation of Switzerland and the noted Mena, Arkansas Bush-Clinton-CIA drugs and narcotics trafficking and Japanese yen foreign currency money laundry aka the back end of Iran-Contra aka "Deal Room".
Secret CIA proprietary accounts tied to the Bushes and Clintons, along with Obama-Soetoro, current U.S. Vice President Joseph Biden and the Bank of Israel, have now been frozen by the International Monetary Fund (IMF) and U.S. Treasury officials loyal to the patriotic U.S. Military Flag Officers.
Note:  Current U.S. Treasury Secretary Jack Lew has now been politically and financially decapitated.
The U.S. Military Flag Officers have also completely concluded that the year 2000 presidential election was  brutally hacked and stolen by the INSLAW corporation, E-Systems out of Dallas, Texas, and by what would eventually become known as 'Smart Systems Technology' at the time operating out of Haifa, Israel and Boca Raton, Florida.
Reference:  Not only was the state of Florida hacked, but as previously reported, the states of Missouri, Tennessee, West Virginia and New Hampshire were stolen by electronic hacking of the highest order aka a computer virus put in the Voters New Service by the CIA and CNN at 8:00 p.m. (central standard time) on election night in the year 2000 with the virus placed in the computer system by none other than then U.S. CIA asset Michael Morell.
P.S.  The U.S. Military is now going to have Mr. Morell dealt with immediately with due prejudice.  Morrell is not only a treasonous 9/11 co-conspirator, now documented year 2000 election stealer, but has allowed Smart Systems Inc. to continue to this day the illegal spying and NAZI German-style espionage against the American People.
Nazi Morell was also the individual who fabricated evidence concerning the existence of weapons of mass destruction (WMDs) in Iraq, which led to the Un-Constitutional, totally illegal war in Iraq, which murdered thousands of U.S. soldiers, hundred of thousands of innocent Iraqi civilians, destabilized the entire Middle East to this day and led to the formation of the ISIS British Intelligence financed, CIA-Israeli Mossad terrorist organization.
Laugh out loud: Nazi traitor Michael Morell and Nazi traitor former CIA and NSA Director and 9/11 co-conspirator Michael Hayden have now endorsed none other than lifelong CIA asset, Iraq War advocate and Nazi neocon Hillary Clinton for president.
Director message to Morell and Hayden:  The U.S. Military is enraged at both of you.  You have crossed the lined!
Stay tuned, your day is coming soon, TRAITORS!
Related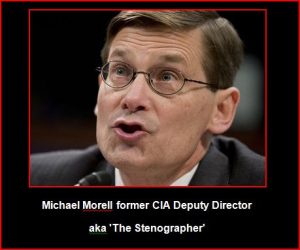 Michael Morell former CIA Deputy Director aka "The Stenographer"
By Tom Heneghan, International Intelligence Expert
UNITED States of America –   The Tim Osman 9/11 fairy tale continues aka The Big Lie!
It can now be reported that former Assistant CIA Director Michael Morell has been fingered by the Joint U.S.-French Intelligence Task Force as being behind the release of phony alleged Osama bin Laden documents.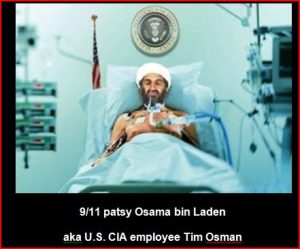 It is important to remember that Morell was a 9/11 co-conspirator and was with George W. BushFRAUD on the day of the 9/11 Black Op attacks on the United States. Morell was also present with President Obama during the phony raid that allegedly killed Osama bin Laden. The raid has been fingered as a fraud by Seymour Hersh.   Bin Laden aka CIA employee Tim Osman died in December of 2001 in a CIA hospital in Minneapolis, Minnesota.
FBI Ted Gunderson a Daddy Bush Stooge sold Osama bin Laden Stingers
More on Slimball Ted Gunderson
McMartin Preschool Pedophilia case Mother targeted by FBI Ted Gunderson
This document dump came at the same time that final debate was taking place in the U.S. Senate reference whether to revoke or extend the illegal and totally UN-Constitutional George W. BushFRAUD's Patriot Act aka Adolf Hitler-style 'Enabling Act'.
FACT: The Osama bin Laden documents are forgeries!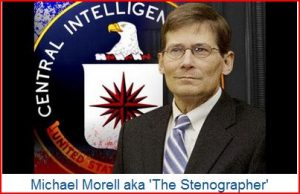 Michael Morell's nickname in the CIA was 'The Stenographer' and under the BushFRAUD Administration he acted as direct liaison to the U.S. NSA in the arena of the NSA's UN-Constitutional mega data collection of American citizen's cell phone records.
Morell is also a major adviser to Smart Systems Technologies. Smart Systems Technologies has been used by the treasonous NSA to stoner attack cell phones worldwide including the cell phone of current German Chancellor Angela Merkel.
If you see the following number (844) 405-4868 on your phone, look out! You are being stonered.
Definition: Stonering is the use of electronic magnetic pulse tied to laser technology.
Folks, do not buy a smart phone!
Smart Systems Technologies can actually turn your phone on even when it is turned off. Smart Systems Technologies also specializes in saving passwords on individual computers in the United States as to have permanent access to personal emails of American citizens.
Smart Systems Technologies is also tied to the algorithms that have been used to illegally spy on the American People and manipulate worldwide financial markets using the crooked algorithms as market makers without human beings all designed to rig worldwide financial markets on behalf of worldwide crooked banks.
Former CIA Head Accuses Trump Of Being "An Unwitting Agent Of Russia", Here's What He Did Not Say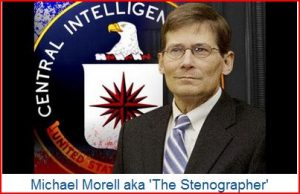 Former acting director and deputy director of the Central Intelligence Agency from 2010 to 2013, Michael Morell has penned a WSJ Op-Ed endorsing Hillary Clinton and claiming "Mr. Putin has recruited Mr. Trump as an unwitting agent of the Russian Federation." However, while Morell portrays himself as some sort of bipartisan warrior, this is not true. He's been vying for a position in a potential Hillary Clinton administration for three years now, and since he won't disclose his close ties with Clinton, we will…
New York Times Fails to Disclose Op-Ed Writer's Ties to Hillary Clinton's 'Principal Gatekeeper'
Michael Krieger | Posted Friday Aug 5, 2016 at 2:29 pm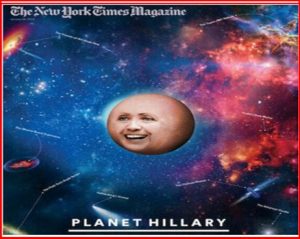 Today, everyone is talking about Michael Morell's Op-Ed in the New York Times in which the former acting director of the CIA strongly endorses Hillary Clinton while calling Donald Trump "an unwitting agent of the Russian Federation." 
At the end of the piece the New York Times informs readers that:
Michael J. Morell was the acting director and deputy director of the Central Intelligence Agency from 2010 to 2013.
That's a pretty brief bio and leaves out some material information about what the man's been up to since. For example, Mr. Morell is a Senior Counselor for D.C.-based international consulting firm, Beacon Global Strategies. So who runs Beacon Global Strategies?
Well, one of its founders is a man named Philippe Reines. Here's an excerpt from his bio:
From 2009-2013, Mr. Reines served as the Deputy Assistant Secretary of State for Strategic Communications and Senior Communications Advisor to Secretary of State Hillary Rodham Clinton, who he has worked for since 2002. In that role, Mr. Reines traveled to more than 110 countries with Secretary Clinton as part of her senior team, responsible for crafting and executing the strategic media goals of the Secretary of State.
Prior to joining the State Department with the Secretary, he served from 2002-2009 as Senator Clinton's Senior Advisor & Press Secretary. In 2007-2008, Mr. Reines simultaneously served on Hillary Clinton's presidential campaign as Communications Advisor for National Security & Foreign Policy, and served as Chelsea Clinton's spokesman, traveling with her throughout the primaries, often with the candidate and Former President Bill Clinton.
You'd think readers might want to know this, but the New York Times doesn't appear interested in informing its readers. It's more interested in shoving Hillary Clinton down everyone's throats.
The New York Times' "oversight" is particularly egregious considering the fact that it was New York Times Magazine which went so far as to describe Reines as "Clinton's principal gatekeeper" in a 2014 article.
Not that this should surprise anyone. When it comes to politics, The New York Times is a pure and unabashed propaganda outlet. This was proven without a shadow of a doubt during the Democratic primary when the paper endorsed Hillary Clinton over Bernie Sanders in an embarrassing article devoid of all logic or intellectual honesty.
In fact, the endorsement was so offensive, I went out of my way to write a critique of it in the post, A Detailed Look at The New York Times' Embarrassing, Deceitful and Illogical Endorsement of Hillary Clinton.
Here's an excerpt:
One of the biggest trends of the post financial crisis period has been a plunge in the American public's perception of the country's powerful institutions. The establishment often admits this reality with a mixture of bewilderment and erroneous conclusions, ultimately settling on the idea people are upset because "Washington can't get anything done." However, nothing could be further from the truth. When it comes to corruption and serving big monied interests, both Congress and the President are very, very good at getting things done. Yes it's true Congress doesn't get anything done on behalf of the people, but this is no accident. The government doesn't work for the people.
With its dishonest and shifty endorsement of Hillary Clinton, I believe the New York Times has finally come out of the closet as an unabashed gatekeeper of the status quo. I suppose this makes sense since the paper has become the ultimate status quo journalistic publication. The sad truth is the publication has been living on borrowed time and a borrowed reputation for a long time. Long on prestige, it remains very short on substance when it comes to fighting difficult battles in the public interest. Content with its position of power and influence within the current paradigm, the paper doesn't want to rock the boat. What the New York Times is actually telling its readers with the Hillary Clinton endorsement is that it likes things just the way they are, and will fight hard to keep them that way. It is as much a part of the American establishment as any government institution.
The paper seems to have once again proved my point.
In Liberty,
Michael Krieger
Stew Webb Radio Network
Listen Live
US Intel Breaking News
http://www.stewwebb.com
Listen live by phone
712-775-8269
federalwhistleblower@gmail.com