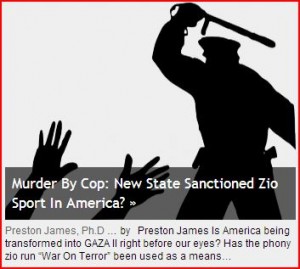 … by   Preston James
Is America being transformed into GAZA II right before our eyes?
Has the phony zio run "War On Terror" been used as a means to mind-kontrol the local Police to view all non-police Citizens as either Terrorists, Domestic terrorists or potential Domestic terrorists? (1)
Are the shoulder-held constant-on police radios also being used to mind-kontrol many police. Do they entrain aggressive frequencies in their brains and stimulate semi-conscious, violent parietal lobe or temporal lobe psycho-motor seizures in many police leading to hundreds of unjustified murders and serious assaults of civilians?(2)
Anyone who compares current Police norms, policies and practices now from what they used to be twenty-five years ago, can easily conclude that high tech mind-kontrol, both cultural and psychotronic has been used by top policy-Makers who set the Police policies in the major departments. Obviously the sophistication of this mind-kontrol deployed in a background of the phony "War on Drugs", 9/11 and the phony "War on Terror" has allowed a progressive implementation over a long period of time. This incremental deployment in such times of course has prevented most Police Officers from being aware of how they have been mind-kontrolled.  And few have studied such techniques in advance and this information is not readily available in the Controlled Major mass Media (CMMM).
And it seems apparent that the so-called phony "War On Terror" created a background of fear, aggression and Institutional Police Paranoia which provides blanket justification for allowing the ADL to morph American Police into a Militarized paramilitary force for the zios and convert America into GAZA II?(3)
It has now been well determined that the 9/11 attacks were deep cover, covert Israeli Black Ops, staged using NeoCons and Israeli-American Dual Citizen Traitors. (4)(5)
All the hoopla and panic generated in America over so-called Arab Terrorism is a monstrous and horrendous BIG LIE that needs to be exposed, screamed from the rooftops and forced into the mainstream media.
Of course VeteransToday.com and many of the Internet's Alternative media like Whatreallyhappened.com, and Rense.com have been carrying these stories for years. So far the Controlled major Mass Media (CMMM), the USG propaganda dispensers, won't touch this truth. Interestingly enough, more and more mainstream Americans are learning that 9/11 was an Israeli-American inside-job, a Gladio style false-flag attack and that a huge USG coverup has been in place ever since.
The Coach of the Seattle Seahawks is purported to be a 9/11-truther and has been criticized for it.  His team pounded Denver in the Superbowl this year.  In the program after the game when the MVP was being interviewed, a 911-truther was "allowed" to slip in and take the microphone.  He clearly stated that 9/11 was an inside job done by the USG and needed to be investigated. This was heard by many millions of Pro Football fans. So things are now changing and the truth is diffusing across America despite the coverup of the Controlled Major Mass Media (CMMM).
Current American Police Policy has fingerprints of the ADL all over it. Many now realize that Police Policy in most major urban Police Departments is being determined by ADL training programs. This has also been true for the Department of Homeland Security (DHS) which appears to be little more than Israel's Bitch and is still run by a man in the background who looks like Lenin's grandson and whose translated Russian name means "Son of the Devil".
This man Chertoff, another Israeli-American dual citizen infil-Traitor has made millions of profit off of selling his Xray scanners to the TSA for airport screenings. Numerous cancer clusters of TSA staff have developed because these machines have no shielding for back-scatter and many experts believe they strip genes and are carcinogenic. They are unregulated by the FDA with no dose control badges and are a clear and present danger to TSA staff and the public who go through them or stand near them.
This is just like the DHS step vans that cruise the highways which carry high powered Xray Machines to Xray trucks and vehicles while moving inconspicuously among them.  The harm to the operators and the public they "scan" is criminal. And the TSA VIPR assassination squads are just one more example of the out of control unConstitutional programs of the TSA and DHS.
If you like the Red Cheka murder squads under the Bolsheviks who murdered 22 million innocent Russian men, Women and Children, you are going to just love DHS, TSA and what your local Police eventually morph into.  Remember, this is all driven by neo-Bolsheviks Israeli-American Dual Citizen Traitors and Infil-Traitors and is all part of a Talmudic, Noahide zionist plan to take over the whole world and eradicate all Christians, Muslims and Deists. It is the same zionist, occult families that set up the Bolshevik revolution in Russia in 1917.
Is this ADL indoctrination of the American Police just the planned first stage of an intended complete hijacking of America, just the way Palestinian land continues to be stolen?
Yes, unless AIPAC, the ADL, SPLC and the like are exposed and stopped for their espionage on behalf of Israel, America will be probably be propelled into a nuclear WW3 total confrontation with the Russians.
Yes, this zionist Militarization of the Police in America is not the only major problem which is now occurring.
The AIPAC-Israeli espionage machine is now exerting extreme influence on Member's of Congress to make war with Assad's Syria and also Iran. This could easily escalate overnight into an all out nuclear confrontation with Putin and Russia, who may have been pushed just about as far as they will go by Israeli and American aggression, that is, their use of Al Cia Duh type terror groups, special forces and mercenary special operators.
When the American Police become Militarized (and that is what is well underway now), they cease to "Protect & Serve" and begin to "Tyrannize, Assault and Murder". Unless this militarization of the Police process is stopped, soon many police will be operating South American style death squads, which is what some experts believe many urban Police Swat Teams are now morphing into.
Have most American large urban Police Forces been transformed into an extension of the IDF to serve as their new localized army in America? That now seems certain and will continue indefinitely unless AIPAC is stopped cold and investigated and brought to justice and "Rule of Law" for many years of Israeli espionage in America.  Why how has Israeli Intel and their assets been deeply involved in espionage in America you might ask?
The answer is simple, AIPAC has been engaged in criminal espionage, illegally and unduly influencing Members of Congress and funneling vast sums of money and lavish perks to numerous high USG Officials.
This has been done by massive lobbying efforts backed up by visible fat campaign donations, and much more that is invisible as fat revolving door jobs and consultancies, ridiculous huge honorariums, off short "gifts" and so much more.
Unless AIPAC, the ADL, the SPLC and all the similar Israeli espionage fronts in America are stopped, Americans better be ready to face WW3.  Why? It's simple. America has been functioning as Israel's bitch ever since it was hijacked by the zionist City of London private Central Banksters in 1913, and their web of penetration has been increasing incrementally ever since. This Israel penetration on behalf of the City of London zionist Central Banksters has in essence resulted in the hijacking of the American Government and the constant drumbeat for more illegal Mideast wars which would once again be proxy wars for Israel and City of London Big Oil.
The USG has then deployed its war-making machine on behalf of the City of London Banksters into numerous illegal, unprovoked, unConstitutional, undeclared wars. The latest of these wars have been specifically on Israel's behalf and have been numerous Mideast wars that have almost destroyed America economically.
Note:  It is also important to note that this article is not an indictment of Judaics, just those in top Policy-maker positions that are rabid zionists and are working to install a neo-Bolshevik regime, to destroy America and turn America into Gaza II.  This is a very small proportion of Judaics in general, but they are aligned with and serve as the Cutouts for the City of London zio private Central Banksters and thus have access to all the money they need to buy up, bribe, coerce and manipulate Members of Congress and the USG through Cutouts and espionage fronts like AIPAC, the ADL, B'nai B'rith, SPLC and the like.
In this article I am not going to show you any of the numerous squad-car dash-cam or phone cam videos that show out of control overly aggressive police murdering civilians in cold-blood. This is now almost an everyday occurrence.
If you want documentation, just to to www.youtube.com or the numerous websites which show these horrendous videos. I am also not going to report on the numerous well documented incidents of "Murder by Swat" or incidents where little kids are burned or lose hands from police tossing in Flash-bangs into the rooms they are sleeping in; or the numerous murders or assaults of innocents when the Police storm the wrong home with no warrant and shoot old ladies or men in their beds and claim they seemed to reaching for a weapon when none was there.
It's all there if you want to research these incidents. Frankly I can't stomach watching any more videos of this abject tyranny which is really a phenomenon clearly emergent from the infiltration and influence-peddling of Congress & the USG by Israeli-American Dual Citizens, and their NeoCon and PNAC buddies.
And because of the background and mood of "no tolerance" created by ADL Training of Police and the DHS "Intel Reports" to the Police, it is almost impossible for any Police Officer to be made accountable in a court of law for these murders and now frequent assaults on innocents using excessive force.
For example, just several weeks ago in Minnesota during a traffic stop, some overaggressive County Police shot a woman hostage in cold blood after they shot her boyfriend.  Their story, she grabbed for a knife on the ground.  Hmm, how come they won't release any dash-cam video and there were at least five of them.

These Police blocked off the freeway for approximately 10 hours (both sides) and left the bodies covered up there, supposedly to preserve the crime scene.  But they ran their crime scene truck into it and many police tracked through it. Locals were late to work by an hour or more and this was all for nothing but ritual and show, just a celebration of Police Power and Narcissism.
The so-called "Intel Reports" prepared by DHS and sent to all American Police departments are little more than Paranoid Smear Jobs used to set the stage for unmitigated police brutality. Doubt this then do a search and obtain a copy of the leaked MIAC report.
Out of Control Excessive Force by American Police is very serious unchecked crime. Just consider this. Since the 9/11 Israeli inside job attacks of 9-11-01, over 5,000 Americans have been wrongly gunned down (as in murdered) by out of control overly aggressive police using excessive force. And many more have been seriously wounded by Police using Excessive Force. This is more Americans that have been killed in the War in Iraq which is now understood to be just another Proxy War of Israel and their NeoCons and Israeli-American Dual Citizens.
Typically DHS periodically
Read More: Click here to Read Full Article