DISINFORMATION AGENTS, OPERATIVES & ASSETS of CIA, FBI and or other agencies or entities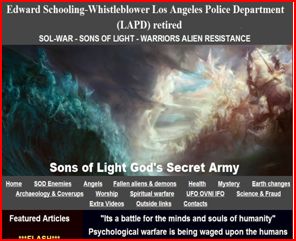 By Ed Schooling former LAPD Whistleblower
Behold, I give unto you power to tread on serpents and scorpions, and over all the power of the enemy: and nothing shall by any means hurt you (Luke 10:19).
Seated in heavenly places, far above evil, having power over the enemy, we bind and cast down the demonic chain of command: Might, Thrones, Nobles, Kings and Princes over Kingdoms, Principalities, Dominions and Powers, Generals, Rulers, Captains, Centurions and Strongmen, Rulers of Darkness of this World and Spiritual Wickedness in High Places.
We send legions of warring angels to attack. We lose the powers of God to do a mighty battle. We bind every force of evil and loose every force of good that we have the power and authority to do so. We break curses, vexes, hexes, spells and demonic ties.
We use every verse in the Holy Bible that wars against the demonic forces. We bind and loose spirits. We command civil war in Satan's Kingdom. We loose the Love of God, Price that Jesus Paid, Holy Spirit, Word of God, Blood of Jesus and Cross of Jesus against the forces of evil. All these things we do in the name of Jesus Christ, our Lord, Master and Savior, and for the Holy Trinity.
Read more: http://www.sol-war.com.ua/sod.html#ixzz2aR6yiTV9
Whistleblowers US Intel Breaking News
Now on Computers, Mobile and Tablets
http://www.stewwebb.com
http://www.veteranstoday.com/author/swebb
Stew Webb Founder:
You did not Vote them in but you can remove them!
http://www.recallpetitions.com
Now you can leak it
http://www.wikiarmy.com
July 2013 Fund Raiser
https://fundrazr.com/campaigns/fXc61
Also contribute through
http://www.stewwebb.com