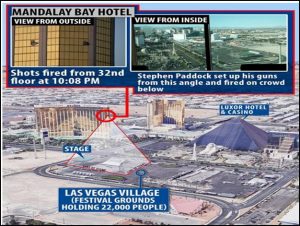 Any chance of a successful cover-up in the case of the Las Vegas Mandalay Bay massacre just got exponentially more difficult to successfully pull off, as new information provided by an FBI source with direct knowledge of the investigation has revealed that the FBI has yet to see ANY surveillance video of alleged gunman Stephen Paddock bringing weapons and thousands of rounds of ammunition to his 32nd-floor hotel suite in Mandalay Bay into the hotel.
"No one has seen that on the video we were provided by MGM," an FBI official told True Pundit. "Vegas (PD) has looked at the same video. Paddock is on surveillance video but the guns are not. He's not carrying bags or cases with rifles.."
These latest revelations in the investigation into the massacre of 58 people in Las Vegas raise serious and startling questions as to the veracity of the official story of what took place on Oct. 1.
So, if Paddock isn't shown bringing cases, bags, weapons or ammo into the hotel, then just what is going on? How did the numerous rifles get into Paddock's hotel suite?
Paddock was set up as the patsie.  Govt is a serious criminal organization!
Your kind Contributions are very much appreciated thank you. – Stew Webb