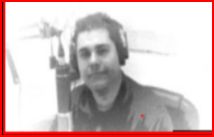 Bruce Montalvo brucemontalvo@icloud.com
Feb 26, 2014
Hello Stew
The reason for this letter is to apologize to you for the incidents that took
place while I was under the guise of sponsorship & promotion with Pete Santilli
& his Guerrilla Media Network and RenseRadio.com. Pete shared some false information with me
regarding you & I'am letting you know our last conversation was never aired
on AM Radio or Internet radio,to be fair I took down all the material which
referenced you in a negative aspect because I'am currently involved in a civil
and or criminal lawsuit against Santilli. He made the very same death threats
to me as he has to others etc so I am asking you if you could please remove any
articles of yours that mention me in your archives regarding the slander
Santilli organized.
Thank You
Bruce Montalvo