AGENTS SAY FOLEY SCANDAL TIP OF ICEBERG

Feds: GOP Lobbyist Abramoff ran Capitol Hill call-boy sex service at DC hotel

by Tom Flocco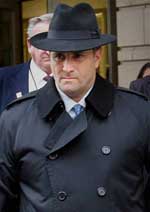 Convicted GOP lobbyist Jack Abramoff
Washington—October 5, 2006—TomFlocco.com—A retired intelligence agency official corroborated the revelations of a national security expert that male and female heterosexual, homosexual, lesbian, bisexual and underage children provided sexual services to numerous congressmen, senators, national media hosts, top military officers and other federal officials who were compromised and made susceptible to blackmail at three Washington, DC hotels since 2000.

The long-time intelligence insider with multiple Capitol Hill sources told TomFlocco.com that indicted GOP lobbyist Jack Abramoff operated the sex / spy ring at the Watergate, Ritz-Carlton and Sheraton hotels in Washington, DC. "The whole Republican Party was for sale—the House, Senate and the White House," said the well-respected federal insider with impeccable and historic intelligence credentials who declined to be named at this time but who is familiar with testimony and sources close to a grand jury probing the GOP lobbyist's sale of sex in return for legislative influence over taxpayer dollars.


White House presidential advisor Karl Rove
According to Justice Department sources there is email and phone record evidence that White House advisor Karl Rove is linked to the operation of Abramoff's sex ring according to federal agency sources who spoke with U.S. intelligence authority Thomas Heneghan.

Heneghan added that a grand jury heard several agents testify last April that "the Watergate, Ritz-Carlton and Sheraton Hotels in Washington, DC were used to compromise legislators and news-people with prostitution services, the financing of which is directly linked to the American Israeli Public Affairs Committee (AIPAC), former Israeli Prime Minister Benjamin Netanyahu, Marc Rich and Abramoff."

The allegations raise serious questions as to why such testimony was not made public to protect the safety of congressional pages subject to sexual contacts by congressmen or other officials linked to the Abramoff poker party hotel sex ring which has already ensnared convicted former GOP Congressman Randy "Duke" Cunningham (R-50-CA) who is currently serving a federal prison sentence.

On Wednesday evening CNN Primetime host Nancy Grace interviewed former congressional page Tyson Vivyan who called recently resigned Florida Congressman Mark Foley "sick and depraved" after receiving explicit emails and instant messages asking if he [Vivyan] "would like to perform sex acts on Foley" more than ten years ago when he was sixteen years old.

Heneghan's executive intelligence network revealed startling allegations that "retiring GOP Senate Majority Leader and Tennessee 2008 presidential candidate William Frist visited the Abramoff hotels," adding that "Frist is reportedly a close friend of George W. Bush's Yale Skull and Bones roommate—former Knoxville, Tennessee mayor Victor Ashe—who agents have alleged to be a long-time albeit sporadic Bush 43 consort."

Heneghan also alleged additional prostitute customers as British Prime Minister Tony Blair and former CNN host-reporter Robert Novak, both of whom were allegedly introduced into the sex-ring by GOP reporter and former male prostitute Jeff Gannon.

Gannon visited the Bush White House private living quarters 45 times without the assignations being recorded in visitor logs even though they could be documented by the President's Secret Service detail, said Heneghan who has yet to be interviewed by mainstream media.


Foley addressing Log Cabin Republicans gay lobby group
Federal agents linked recently resigned Representative Mark Foley (R-16-FL) to Abramoff and Gannon who allegedly acted as "facilitators for the poker parties and an elaborate prostitution ring of pedophiles and extortion-friendly homosexuals-in-the-closet serving elements of the Republican leadership," he said.

The intelligence expert said FBI investigators are reportedly probing GOP bribery of the family of one alleged congressional page-boy victim who was sexually approached by page predator Foley, having received lurid emails which were eventually publicized widely in the media.

Heneghan said payoff money was allegedly channeled through presidential advisor Karl Rove and Abramoff to induce the congressional page's silence during the past three years.

Heneghan's federal agent network also revealed that sources close to the New York Times indicate that GOP congressional leaders including Speaker of the House J. Dennis Hastert (R-14-IL), House Majority Leader John A. Boehner (R-8-OH), House Majority Whip Roy Blunt (R-7-MO) and Senate Majority Leader Bill Frist (R-TN) all helped obstruct justice to cover up the sets of emails incriminating Congressman Foley over a lengthy period of time—and that the Foley email issue was "taken care of."

Media reports indicate that most Americans feel that homosexual and lesbian citizens have the same rights to equality, fair treatment and privacy afforded to all Americans; however, Foley's position as a United States congressman who preyed upon underage congressional page boys crosses the line of criminality which leads many to wonder if more federal legislators will become ensnared in the Abramoff hotel sex ring pedophilia asserted by federal agents.

WMD, poker and pillow talk

While allegations of sex with minors promulgated by the retired intelligence official are scandalous, Heneghan unloaded an explosive charge that the White House bin Laden "terrorist" film footage was produced in Las Vegas by a Paramount subsidiary called Las Vegas Rose Productions and that many of the alleged 9-11 "hijackers" including Mohammed Atta visited Sin City just before the September 11 attacks.

The intelligence authority's network of agency sources revealed that prosecutors will have interest in reports that "the genesis of the Valerie Plame CIA leak case took place during one of Capitol Hill reporter Robert Novak's alleged visits with an Abramoff hooker at one of the hotels after a poker party."

"Photographs of politicians in compromising positions have reportedly already been used as blackmail to silence politicians who would speak the truth about the 2000 Bush-Gore election fraud in Florida, prior knowledge of the September 11 attacks , Iraq—yellowcake—weapons of mass destruction (WMD) and how Abramoff and Netanyahu were the pimps for the sex for influence operation," said Heneghan.

President Bush emphatically denied that he personally knew Abramoff, despite CIA and Secret Service documents indicating the indicted lobbyist visited the White House 200 times during the first ten months of the Bush presidency—often enough for a personal visit on every business day of each month, according to wide news reports.

Despite the daily White House visits, Bush said "I've never sat down with him and had a discussion with the guy," adding, "I'm also mindful that we live in a world in which those pictures will be used for pure political purposes," attempting to justify his unwillingness at first to release photos with Abramoff and to account for his false statements.

Heneghan told us the Bush administration wanted Valerie Plame-Wilson's identity as a CIA official leaked because her intelligence team had identified Israeli Mossad operatives inside Iran who were to receive weapons of mass destruction to be delivered through Turkey and planted in Iraq to further the president's case for war.

"The financing for these whorehouses is linked directly to AIPAC, Benjamin Netanyahu, Marc Rich and Jack Abramoff; and the money trail ties back to American International Group (AIG), Hank Greenberg, Leonard Millman and Doug Alexander—former British Minister of E-Commerce," said Heneghan.

Obstruction of justice and cover-up?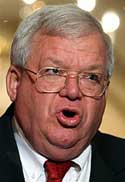 GOP House Speaker Dennis Hastert
Notwithstanding the 1989
Washington Times
report on the homosexual prostitution ring at the home of current Democrat Congressman Barney Frank (D-4-MA) whose reported call-boy lover moved the operation to Chevy Chase Elementary School with the cooperation of its gay principal, speculation that House Speaker Dennis Hastert might eventually resign his post indicates the Foley case may involve more members of the Republican congressional leadership than previously thought. This, while the House ethics committee impaneled four congressmen today to investigate the Foley case armed with some 48 subpoenas.
GOP Congressional Campaign Chairman Tom Reynolds
Disgraced Rep. Mark Foley's former chief-of-staff Kirk Fordham—Republican National Congressional Committee (RNCC) chairman Rep. Tom Reynolds' (R-26 NY) chief-of-staff—resigned Wednesday after revealing that he told Speaker Hastert's chief of staff Scott Palmer about Foley's interest in underage congressional page-boys three years ago, but questions remain as to whether Palmer kept the information from Hastert.
Reynolds accepted $100,000 from Foley for RNCC congressional campaign coffers at the same time Republican leaders were deciding how to handle Foley's underage sex case, raising questions as to whether GOP leaders were selling their silence and obstructing justice regarding the page-boy predatory sex issue. That Fordham would be committing career suicide by literally throwing the Speaker of House under the bus if his statements were not true lends substantial credence to seemingly strong evidence surrounding the Foley email cover-up by congressional Republicans.
Déjà vu all over again?
Evidence of Bush 41 administration pedophilia employed federal court and state child protection agency testimony directly from some of the abused children involved, adding veracity to the original reporting of Rodriguez and Archibald in the Washington Times.

The Bush 41 Justice Department, acting through the FBI and the U.S. Attorney's office in Omaha, NE, emerges from the record of the Franklin investigations not so much as a party to the cover-up, but as its coordinator. Rigging grand juries, harassment of witnesses, incitement to perjury and tampering with evidence—federal personnel were seen to apply all of those techniques in the Franklin case."

The testimony of the abused and murdered children who were flown back and forth to Washington, DC to attend "parties" sometimes attended by our highest elected officials is a lesson of incomparable tragedy related to present Capitol Hill sex-ring scandals alleged by federal agents.

Evidence indicates that history repeats itself, and federal agents say that Congressman Foley is only the tip of the iceberg. This, while President Bush and Vice President Cheney have been quickly distancing themselves from the evidence and story as if to say, "not again."

Late night TV host Jay Leno referred to the GOP Tuesday evening as the "Gay Old Pedophiles," further indicating that congressional sex with minors had marinated the mainstream news.