House Judiciary chairman met with terrorist banker tied to GOP lobbyist Abramoff


Rep. James Sensenbrenner's conflicts of interest prevent Bush impeachment inquiry after meeting in Dubai with al Qaeda financier who hired Greenberg Traurig lobbyist Jack Abramoff and pledging to support spread of Islamic banking in U.S.

by Tom Flocco
www.tomflocco.com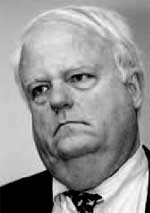 Jim Sensenbrenner
Washington—April 26, 2006—TomFlocco.com—According to congressional finance records filed on May 12, 2005 for the year 2004, House Judiciary Committee Chairman F. James Sensenbrenner (R-5-WI) met with Al Shamal Islamic Bank founding member and shareholder Saleh Kamel whose bank was co-founded by terrorist leader Osama bin Laden who invested $50 million in the Khartoum, Sudan institution.

The fourteen-term Wisconsin Republican met with the court-alleged terrorist financier even though news reports and court testimony indicated that Al Shamal Bank was used to funnel terrorist money for the August 7, 1998 bombings of U.S. embassies in Kenya and Tanzania and court records listed Kamel's questionable ties in the 2002 "Golden Chain" of terrorism finance report presented in federal court by U.S. prosecutors.

According to sources familiar with several grand jury probes overseen by Special Prosecutor Patrick Fitzgerald, Sensenbrenner is currently under federal investigation regarding links to indicted Republican lobbyist and Bush "pioneer" fundraiser Jack Abramoff who was employed by Saleh Kamel to lobby U.S. legislators to expand the reach and money flow of Islamic banks within the United States banking system.

On April 4-9, 2004 Chairman Sensenbrenner accepted an all-expense paid trip to Bahrain and Dubai to speak at a conference organized by Saleh Kamel and funded by the Islamic Free Market Institute, the conflicts of which may explain why he is blocking an impeachment inquiry sought by 33 House members regarding illegal spying on the American people, misleading the U.S. into the Iraq War, immigration failures and evidence linking the government to the September 11 attacks among other issues.

As Judiciary committee chairman with jurisdiction over bills of impeachment, the Wisconsin Republican and heir to the Kimberly-Clark paper fortune has the power to authorize a committee vote for an inquiry into whether there is sufficient evidence to impeach President Bush, after which articles of impeachment could be voted upon and sent to the full House as members have signed on to Judiciary Committee Ranking Member John Conyers' resolution to create a select committee for that purpose.

Despite Sensenbrenner's interest in Islamic banking, it was his pre-indictment protection of Abramoff and ties to Kamel and Dubai—the recent subject of a public firestorm over the Bush administration's attempt to sell control of U.S. ports to Dubai Ports World Corporation in the United Arab Emirates (UAE)—which is drawing the attention of prosecutors who are reportedly investigating 30-40 legislators, their wives and staffers regarding bribery and secret payoff trusts linked to Abramoff, according to U.S. intelligence sources.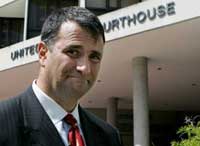 Jack Abramoff
Abramoff's lists of fundraisers at Greenberg-Traurig law firm include 72 events for members of Congress between 1999 and 2003, with all but eight put on for Republicans—many in House leadership—some of which were reportedly not filed and recorded as required by federal election laws which may have already drawn the attention of federal prosecutors.

Kamel, a Forbes list billionaire, is the Chairman of the General Council for Islamic Banks and Financial Institutions (GCIBFI) which hired Abramoff as a registered Greenberg-Traurig lobbyist for Kamel's GCIBFI on March 12, 2002—six months after the September 11 attacks.

Chairman Sensenbrenner would have been aware of the above, yet deemed it beneficial to meet with a known terrorist banker in 2004 despite clear evidence, congressional testimony and court cases delineating Kamel's multiple links—some provided earlier by one of the Chairman's own colleagues in GOP congressional leadership.

The Gulf Daily News reported that Sensenbrenner wanted to gain a better understanding of Islamic finance, the Hawalla system and controlling terrorist financing while promising to work so "American regulations would not unnecessarily hamper the growth of Islamic banking in the U.S."

Senate Armed Services chairman links Saleh Kamel to financing terrorism

Two years prior to Sensenbrenner's meeting with Kamel and coinciding with the alleged terrorist banker's March hiring of Abramoff, Bosnian police searched the offices of Benevolence International Foundation in Sarajevo and found a computer file labeled "Tareekh Osama," or "Osama History" containing scanned images of several documents, including one which listed Saleh Kamel as one of the top 20 Saudi financial sponsors which was delivered to the U.S. Embassy soon after the raids.

The list was presented by the U.S. government as Exhibit 5 in the Department of Justice "Government's Evidentiary Proffer Supporting the Admissibility of Co-conspirator Statements" in the case, USA v. Arnaout on October 9, 2002 [02 CR 892], and federal officials said the document is "a list of people referred to within Al Qaida as the "Golden Chain," wealthy donors to Mujahideen efforts."

Kamel reportedly hired Abramoff to represent the Islamic banking consortium to counter Treasury Department and FBI efforts to put an unwanted spotlight on global terrorist financing which came out of Saudi Arabia and other countries in the Gulf.

Sensenbrenner has not publicly testified regarding the link to Kamel who in turn has ties to Al Shamal Bank, Abramoff and Greenberg Traurig—and whether contributions from Kamel may have allegedly been laundered through Abramoff, evidence of which may still be available for subpoena by federal officials.
Greenberg—Traurig Law Firm and the Bush Administration

September 11 widow Ellen Mariani's step-daughter Lauren Peters, met with attorney Daniel Bakinowski in the Boston office of Greenberg Traurig--a Miami-based firm with several close links to both President George W. Bush and his brother, Florida Governor Jeb Bush. A few months later, attorneys from Massachusetts and New Hampshire helped Peters file a legal challenge to take control of the late Louis Neil Mariani's estate, resulting in Mariani's inability to continue her pursuit of 9-11 government evidence.

Greenberg Traurig represented President Bush in the Bush-Gore 2000 Florida election vote recount and a Greenberg attorney personally represents Governor Jeb Bush. Greenberg Traurig hired the son of Supreme Court Justice Antonin Scalia on election day 2000--after which Justice Scalia cast one of the deciding votes which placed Bush in the presidency about seven weeks later; and the Miami-headquartered firm partially funded and sponsored a delegation to Israel of House-Senate Armed Services Committee members and government contractors who witnessed and were briefed on interrogation resistance procedures and torture techniques--according to an Army Major General.

Other relationships include Greenberg Traurig's legal representation of Bush 2000 in the Florida election recount, prominent administrative positions in the Massachusetts 9/11 Fund also involving Bush family banking house Brown Brothers Harriman, Greenberg's Alberto Jose Mora--appointed General Counsel of the Department of the Navy and its Office of Naval Intelligence just 90 days before the 9-11 attacks, and Greenberg's indicted Bush 2004 "pioneer" fundraiser and Washington lobbyist Jack Abramoff.

One of the lobbyists accompanying the Greenberg-funded congressional and defense contractor delegation to Israel included Jack London, chairman, president and CEO of CACI International Inc., an American defense contractor firm implicated by U.S. Major General Antonio M. Taguba in the torture of Iraqis at Abu Ghraib prison, according to a report leaked by Taguba. (Lebanon Daily Star, 5-11-2004)

The Greenberg firm was fined $77,000 in 1998 for soliciting an illegal foreign political donation from German citizen Thomas Kramer; and Greenberg partner Marvin Rosen--Democratic National Committee (DNC) finance chairman- supervised the activities of convicted fund-raiser and DNC vice-chairman of finance John Huang who had to return half of the more than $3 million raised by Huang in contributions from illegal foreign sources.
---
Kamel is also chairman of Dallah al Baraka Group (DBG) which is accused of financing al Qaeda and other extremist groups, particularly through Omar al Bayoumi who provided money to two of the alleged 9-11 "hijackers," and who was an assistant to the Director of Finance for Dallah Avco, Kamel's Dallah subsidiary.

Russian intelligence has reportedly charged that Dallah al Baraka Bank was used by a Saudi religious charity, Al-Haramain, to move funds to Islamic terrorists tied to al Qaeda in Chechnya.

Senator John Warner (R-VA) testified in a post 9-11 hearing that "Al Shamal Islamic Bank operations continue to finance and materially support international terrorism and that there are indications that Osama bin Laden remains the leading shareholder of that bank," yet Chairman Sensenbrenner met with Kamel in 2004 even though his GOP colleague publicly linked Al Shamal bank to Kamel and bin Laden.

Ahmed al-Fadl, a finance manager for al Qaeda, testified at the 2001 U.S. embassy bombings trial that Al Shamal Islamic Bank was the only bank in which Osama bin Laden kept his funds, and that he paid all the members of his terrorist network through this account.

Al Shamal Bank General Manager Mohammad S. Mohammad acknowledged in a September, 2001 press release that Osama bin Laden had two accounts in the bank which were opened on March 30, 1992 for Construction and Development Ltd., a company the U.S. State Department says "works directly with Sudanese military officials to transport and provision terrorists training." [U.S. District Court, Washington, DC, Jane Doe v. al Baraka Investment, Al Shamal Islamic Bank et. al., Section 44]

Al Shamal Islamic Bank has repeatedly been used to fund criminal and terrorist activities. A former bin Laden associate, Jamal Ahmed al-Fadl, testified during the U.S. trial on the 1998 embassy bombings in Africa, that Osama bin Laden and at least six al Qaeda operatives held bank accounts in Al Shamal Islamic Bank under their real names. [Jane Doe v. al Baraka Investment, Al Shamal Islamic Bank et. al, Section 46]

Sensenbrenner protecting Bush and Abramoff?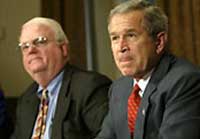 Sensenbrenner came under fire from his House Judiciary Committee ranking Democrat John Conyers (D-14-MI) in a letter to U.S. Inspector General Glenn A. Fine, available a Conyers' website, a copy of which was also sent to the House Judiciary Chairman.

Sources with knowledge of the Abramoff case told TomFlocco.com that Sensenbrenner protected Abramoff and President Bush by failing to use his Judiciary committee power to investigate the firing and removal of former Acting United States Attorney for Guam and the Northern Mariana Islands, Frederick A. Black.

Black was aggressively supervising a grand jury probe into Abramoff's criminal lobbying and bribery activities until President Bush abruptly demoted him on November 19, 2002, potentially leaving the President and Chairman Sensenbrenner open to future obstruction of justice charges for failing to call for or order an investigation of the GOP lobbyist's money laundering and other criminal charges since the grand jury ceased its legal pursuit of Abramoff after Mr. Bush's action.

The United State Code under 18 U.S.C. 4 provides for prison sentences for "whoever, having knowledge of the actual commission of a felony cognizable by a U.S. court conceals and does not as soon as possible make known the same to some judge or other civil or military authority under the United States, shall be fined under this title or imprisoned not more than three years, or both."

Acting U.S. Attorney Black's replacement, Leonardo Rapadas, was confirmed in May, 2003 without any debate; and after taking office Rapadas recused himself from a public corruption case involving Guam Governor Carl Gutierrez even though the Bush Department of Justice (DoJ) and Sensenbrenner knew that a confidential memo to DoJ officials revealed that the new U.S. attorney was a cousin of one of the main targets in the Gutierrez case.

Sensenbrenner remained silent in his House Judiciary Committee oversight, effectively compounding the cover-up of Abramoff scandals linked to Bush and the GOP.

Impeachment conflicts and recusal while under investigation

Sensenbrenner's conflicts of interest come into serious play because the Judiciary Committee can quickly employ a simple majority vote to initiate an impeachment inquiry into presidential treason, bribery or high crimes and misdemeanors, and then vote to certify articles of impeachment (bills of indictment) by another simple majority to be sent to the full House for majority approval to commence a Senate trial to convict and remove President Bush from office—again by a majority vote.

Only four of 23 Republican House Judiciary Committee members would have to cross over and join 17 Judiciary Democrats for a 21-19 margin out of 40 members to vote articles of impeachment out of committee onto the House floor to approve a Senate trial to remove Mr. Bush.

Absent public pressure, Sensenbrenner's links to Kamel, an indicted Abramoff and nascent obstruction of justice charges could ultimately force the Wisconsin Republican to recuse himself from presiding over what could shortly become a public impeachment furor should Bush's polling statistics continue to render his presidency inviable for governing as soldiers die in Iraq and illegal aliens rush to cross the border into the U.S. seeking amnesty via legislation sponsored by Senators John McCain and Ted Kennedy.

Tragically, Sensenbrenner's strong public stance against illegal immigration and amnesty may have been used to garner popularity while obstructing justice and then blocking an impeachment inquiry linked to massive offshore money laundering involving Abramoff, Bush and Congress, some of which reportedly emanated out of Guam and the Northern Mariana Islands—but also Bank Crozier in Grenada and its U.S. correspondent Riggs Bank in Washington are also allegedly involved, among other financial entities.

Follow the money

Sensenbrenner's reported $10 million personal fortune is also an issue since there is substantial evidence that his $6.3 million stock portfolio has increased as a result of his votes in Congress and in proportion to tens of thousands received in campaign contributions from companies wishing to purchase his political influence and vote—and in which he also owned stock.

For example, an online search indicated that the Economic Policy Institute's bulletin, "The High Price of Free Trade," revealed that between 1994 and 2002, Sensenbrenner's state of Wisconsin lost 46,395 jobs as a result of his support for the NAFTA free trade agreement.

An examination of the Judiciary Chairman's stock portfolio also reveals that Sensenbrenner has strong reason to vote in support of multi-national corporations and free trade since virtually all of his election campaign contributions to hold political power and the increase in his personal wealth is tied up in huge stock positions with defense contractors, insurance companies, investment houses, oil and energy firms, pharmaceutical manufacturers and the telecommunications and healthcare industries.

Eyebrows could also be raised during his 28 years in office if voters in Sensenbrenner's district realize that he accepted thousands of dollars in contributions from companies in which he owned large blocks of stock when he was running for office unopposed—that is, with no challenger from another political party.

The Wisconsin Republican's votes against the U.S. military are staggering in that he voted against a $213 million bill to fund veteran medical care (HR 2099—roll call 829), against a $250,000 life insurance policy for soldiers in combat (HR 4200—roll call 193), against a $1,500 bonus for troops serving in Iraq and Afghanistan (HR 3289—roll call 554), and against making the earned income tax credit permanent for troops (HR 785—roll call 469) even as his concentration of defense company stocks profited his portfolio immensely from the wars in Iraq and Afghanistan.

While federal prosecutors may have interest in Congressman Sensenbrenner's relationship with an individual who financed world terrorism and then hired Jack Abramoff to help foster the spread of Islamic banking and finance in America, despite ties to illegal political campaign bribery and money laundering, it is more likely that voters in his district could question whether he was meeting with Saleh Kamel for the purpose of taking Abramoff's place as a lobbyist for Islamic banking in order to further enhance his stock portfolio and personal fortune after leaving office.

Mary Schneider [ www.MarySchneider.us ] contributed additional research for this report.
www.tomflocco.com

www.stewwebb.com