By Stew Webb
Federal Whistle blower
federalwhistleblower@gmail.com
816-478-3267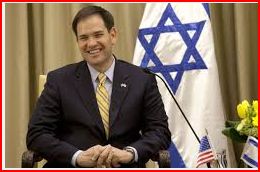 Senator Marco Rubio Homo Married Hooker
Generational Cubans living in the United States of America illegally with ties to Illuminati Zionist Israel Mafia who have ruined America.
How I love the truth and hope you seek it as well thanks to Wayne Madsen and his report below I think most of the article explains it all but a few things I am adding here.
Where Meyer Lansky is mentioned the former head of the American Jewish Mafia and Marco Rubio's parents worked for Meyer Lansky let's move forward in time.
Lenard Millman of Denver my ex-witch Kerre Millman's father and Lucky Luciano took over for Meyer Lansky upon Lansky's death. Millman took over everything upon Luciano's death as the Head of the American Jewish Mafia until his death in February 2004.
Larry Mizel of Denver was appointed as Millman's replacement and who took control of the estimated $100 Trillion Dollar Jewish MOB jackpot that Leonard Millman Controlled upon Millman death for the Illuminati Zionist Devil Worshiping Satanists also known as the Council of 13.
George HW Bush is a known member and a partner of Millman and Mizel.
Put their names in the search box on my website http://www.stewwebb.com
Larry Mizel is an AIPAC Director who controls MDC Holding, Inc. MDC-NYSE, controls Great West Life Assurance Company of Englewood, Colorado the parent company of HSBC Bank the narcotics money laundering and ISIS ISIL Terrorist money laundering Bank.
Larry Mizel is know by the Jewish newspaper in Israel as the American Jew you have to go though if you want to be US President.
Larry Mizel and his attorney AIPAC Director Norman Phillip Brownstein who has offices in Denver, Washington, D.C. , and Mexico City, Mexico, were the two primary players in the illegal Bank Bailout in 2008 as a direct result of their illegal duplicate Mortgage Backed Securities Fraud which has never been prosecuted and former attorney general Eric Holder's law firm he now works for is on retainer by HSBC for 150 million a year. Further Mizel and Brownstein sold those fake securities as derivatives world wide that cause massive economic plunder. Brownstein was one of George HW Bush's six CIA council when Bush was CIA Director in the mid 1970's.
Norman Braman a former Israeli Mossad Broffman Seagrams employee and moved up the ranks in the American Jewish Mafia with ties to Larry Mizel, Braman is now a Billionaire finances and controls his little AC-DC Homosexual Senator Marco Rubio.
I would like to ask Rubio and Ted Cruz did either of you attend Jack Abramoff's AIPAC Child Whore Houses in Washington, D.C.?
Think back during and watch the future debates when Israel is mentioned Marco Rubio goes off like he is a mind controlled chipped Israel stooge… Israel, Israel, Israel.
During last week's GOP Debate he said Israel when I'm President I will Bomb the Palestinians who are terrorists for Israel.
We need Donald Trump as the next U.S. President not another Jewish controlled stooge like Marco Rubio or the Canadian born Cuban Ted Cruz who is not even eligible to be the U.S. President, and not the 5th Degree Witch Hillary Clinton a Jew and well connected Organized Crime Syndicate member.
Proof Ted Cruz Not Eligible for US President
http://www.stewwebb.com/2016/01/07/proof-ted-cruz-not-eligible-for-us-president
Marco Rubio was born May 28, 1971, in Miami, Florida, to Mario Rubio (Cuban citizen) and Oria Garcia (Cuban citizen). Both his parents were Cubans citizen when Marco Rubio was born and who had immigrated to the United States in 1956 and waited to become naturalized U.S. citizens until 1975. Why did Marco Rubio's parents wait 19 yrs to become US citizens?
Marco Rubio seeks to dismiss court challenge to his eligibility to be president
http://home.tampabay.com/blogs/the-buzz-florida-politics/rubio-seeks-to-dismiss-court-challenge-to-his-eligibility-to-be-president/2261269
http://tampabay.com/tbprojects/dcloud/dcloud-template.html?doc=2690551-101911rubiopetition
Related: Larry Mizel, Norman Brownstein, George HW Bush, Jeb Bush, AIPAC, those who control Marco Rubio, Ted Cruz and Hillary Clinton and Barack Obama.
Where did Barack Obama get his 100 million for his Presidential Library? Ask Larry Mizel and Norman Brownstein.
ISIS ISIL you Judge
US President Obama Admits US Trains ISIS
http://www.stewwebb.com/2015/09/02/obama-admits-us-trains-isis-july-2015
AIPAC Child Sex Blackmail Ring Congress ask Marco Rubio and Ted Cruz
http://www.stewwebb.com/2014/02/03/aipac-and-abramoff-operated-child-sex-blackmail-ring
US Senators Sold out to Israel ask Marco Rubio and Ted Cruz
http://www.stewwebb.com/2013/12/30/33-us-senators-sold-out-to-israel-recall-them
Hillary Clinton Narcotics Weapons Frauds Treason
http://www.stewwebb.com/2016/02/25/hillary-clinton-narcotics-weapons-frauds-treason
Hillary Clinton Racist
http://www.stewwebb.com/2016/02/25/hillary-clinton-racist
Jeb Bush Murders Securities Frauds Scams
http://www.stewwebb.com/2016/02/13/jeb-bush-frauds-and-scams
Illuminati Denver Human Sacrifice staring George HW Bush Larry Mizel
http://www.stewwebb.com/2013/12/19/illuminati-council-of-13-human-sacrifice-denver-colorado-dec-22
Daddy Bush Illuminati Wizard of OZ
http://www.stewwebb.com/tag/daddy-bush-the-illuminati-wizard-of-oz
John Lear CIA PILOT Whistle blower UFO's Aliens are Real
http://www.stewwebb.com/2013/06/09/john-lear-stew-webb-ufos-aliens-911-secret-space-program
FBI Raid Satanic Human Sacrifice Video
http://www.stewwebb.com/2013/09/01/satanic-human-sacrifice-video
Larry Mizel, Neil Bush and Charles Keating Frauds: The Junk Bond Daisy Chain
http://www.stewwebb.com/2013/08/11/junk-bond-daisy-chain-frauds-the-denver-illuminati-zionist-connection
American Christians duped by Political Zionism
http://www.stewwebb.com/2013/05/21/american-christians-duped-by-political-zionism
Whistle blowers by Sarah McClendon 1991
http://www.stewwebb.com/Washington-Webb1_JPG.htm
Stew Webb Whistle blower Grand Jury Demand against Hillary Clinton and Jeb Bush
http://www.stewwebb.com/2015/01/05/stew-webb-grand-jury-demand-kerre-millman-attempted-murder
Boulder Properties Blackmail of Congress and Senate reason for recall
http://www.stewwebb.com/2013/05/25/the-blackmail-of-us-congress-and-senate-reason-for-recall
Inside the Bush Crime Family PT-2
http://www.stewwebb.com/Inside_The_Bush_Crime_Family_Part2_07112011.htm
Inside the Bush Crime Family PT-1
http://www.stewwebb.com/Inside_The_Bush_Crime_Family_Part1_07112011.htm
Stew Webb Saving and Loan whistle blower faces illegal federal charges
http://www.stewwebb.com/2013/10/08/sl-whistleblower-faces-federal-charges
Stew Webb Official SEC Whistleblower Complaint Mortgage Backed Securities Fraud
http://www.stewwebb.com/2013/10/07/stew-webb-official-sec-whistleblower-complaint-mortgage-backed-securities-fraud
Kerre Millman Denver's Illuminati Princess Manipulator Liar Attempted Murderer Stew Webb's Ex-Witch-Doctor
http://www.stewwebb.com/2015/01/06/kerre-millman-denvers-illuminati-princess-manipulator-liar-attempted-murderer
Seattle TV interviews Tom Heneghan and Stew Webb 2016-02-09
http://www.stewwebb.com/2016/02/09/seattle-tv-interviews-tom-heneghan-and-stew-webb-2016-02-09
John McCain Wife Hiding War Profits US Senator John McCain is a Larry Mizel puppet stooge
http://www.stewwebb.com/2013/08/15/john-mccains-wife-hiding-war-profits-untaxed-off-shore-accounts
Worldwide Financial Criminal Network Revealed part 2
http://www.stewwebb.com/?s=gale+norton&submit=Go
Who is America's Moriarity? The Illuminati Zionist Denver Connection by Bret Landrith illegally disbarred attorney for suing Jeb Bush and his Novation LLC heath frauds supply.
http://www.stewwebb.com/2013/08/15/who-is-americas-moriarity-the-illuminati-zionist-denver-connection
http://www.medicalsupplychain.com
Larry Mizel, FRAUDS ARE US AT MDC-NYSE
http://www.stewwebb.com/2013/08/17/frauds-are-us-at-mdc-nyse-the-denver-illuminati-zionist-connection
From Cradle to Cabal The Secret Life of Gale Norton
http://www.stewwebb.com/2013/08/12/from-cradle-to-cabal-the-secret-life-of-gale-norton-the-denver-illuminati-zionist-connection
How the West lands Was Won (California Water Supply starring Larry Mizel and Norman Brownstein)
http://www.stewwebb.com/2015/08/27/how-the-west-lands-was-won
BCCI Bank of Credit and Commerce International Frauds Timeline
http://www.stewwebb.com/2015/01/05/bcci-bank-of-credit-and-commerce-international-frauds-timeline
Illuminati Drug Smugglers Indicted by Costa Rica Government
http://www.stewwebb.com/2013/10/31/illuminati-drug-smugglers-indicted-by-costa-rica-government
Junk Bond Daisy Chain Frauds The Denver Illuminati Zionist Connection
http://www.stewwebb.com/2013/08/11/junk-bond-daisy-chain-frauds-the-denver-illuminati-zionist-connection
Donald Trump saw Dancing Israeli's on 911 dressed as Arabs
http://www.stewwebb.com/2015/11/29/donald-trump-saw-dancing-israelis-on-911
January 29-31, 2016 — WMR REPORTING FROM FLORIDA — Rubio's coke house, gayish dance troupe, and foam parties
http://www.waynemadsenreport.com/articles/20160129
Republican insiders have reported to WMR that Florida Senator and presidential candidate Marco Rubio was, as a high school and college student, known to be a very extroverted homosexual in both South Beach in Miami, a popular gay area, and at college in Gainesville, Florida.
In 1989, a year before Rubio was arrested with his friend Angel Barrios and another unidentified male friend in Alice Wainwright Park in south Miami, ostensibly for drinking beer in a car after closing time in a park known as a pickup locale for gays, Rubio sang and danced in a South Miami High School troupe. The song and dance troupe was based on the Chippendales but with a very gay theme: half Chippendales and half Village People. Rubio omitted his participation in the dance troupe in his biography, "American Son."
It is also significant that Rubio did not have the best parent models in growing up in Florida and Las Vegas. His Cuban parents, according to GOP insiders, did not emigrate from Cuba to escape Fidel Castro and Communism — they left Cuba for America in 1956 — but were Havana casino workers employed by Jewish mob boss Meyer Lansky and brought to Florida. From Miami, they eventually left for Las Vegas to work in mob-owned casino hotels. Rubio's father, Mario Rubio Reina, worked as a bartender in Las Vegas casinos while his mother, Oriales Rubio, was a hotel maid. Rubio has falsely claimed that his parents fled Castro and Communism. In 1956, the U.S.-supported fascist dictator, Fulgencio Batista, was fully in control of Cuba.
After flunking out of Tarkeo College in Missouri, Rubio returned to Miami where he hung around with his old high school friend Barrios. Barrios started an on-line gay porn business called Flava Works, which is still in business today live streaming sexual acts between black and Latino men.
In order to prepare for the University of Florida, Rubio attended Santa Fe Community College in Gainesville. Republican sources have told WMR that Rubio, Barrios, and two other students shared a townhouse in Gainesville that was known locally as a "coke house," where cocaine was readily available, as were almost non-stop parties in what amounted to an off-campus gay frat house. In 1987, Rubio's brother-in-law, Orlando Cicilia, was busted by the Drug Enforcement Administration (DEA) for his role as a key figure in a cocaine smuggling ring in south Florida.
After graduating from the University of Florida, Rubio attended the University of Miami Law School. In 1995, Rubio claims he met his wife, Miami Dolphins cheerleader Jeanette Dousdebes at a "foam party" in South Beach. There is one thing wrong with Rubio's story: foam parties in South Beach were almost exclusively gay events held at gay clubs like "Warsaw Ballroom" and "Amnesia," the latter name befitting some of Rubio's memories of his time in Miami. The following is a description of foam parties in a Miami New Times article by reporter Steven Almond, titled "Foam Sex," published in the June 8, 1995 issue:
"The scene generally features several hundred scantily clad bodies packed onto a dance floor and writhing to bone-rattling music under strobes and colored lights. Nothing new, right? Until suds come gushing out of a machine suspended over the dance floor. As if on cue, various forms of passionate embrace begin. Kissing. Petting. Rubbing. Because the foam froths up waist high, it acts both as a lubricant and camouflage. Mutual masturbation is an occasional component, generally beneath the cover of foam. As the evening wears on, a few men pair off and sit together in the foam that builds up outside the partitioned-off area."
Although he is obscured by the man in front of him, Marco Rubio
[arrow pointing to him] is believed to be in this 1995 photo of a
gay South Beach foam party held at the Warsaw Ballroom.
Rubio claims he met his wife at one such foam party in 1995.
At "Amnesia," emcee "Kitty Meow, a drag queen, would officiate over the foam parties, directing participants what to do. Some foam party participants only wore jock straps. It is entirely possible that Rubio did meet his future wife at a foam party, but the women who attended these functions were largely what are known as "fag hags" out to have a good time while at the same time avoid being hit on by the gay men.
Rubio, who has four children and claims to be a devout Christian, alternately attending Catholic and Baptist churches in south Florida, appears to have a not-so-secret past. There is a Spanish word that aptly describes the presidential hopeful: Cristiano afeminado or Christian homosexual.