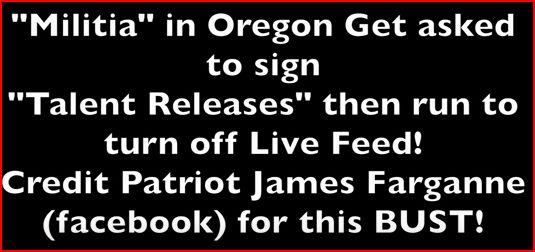 Oregon Militia Asked to Sign Talent Release – Running to Shut Off Feed! – PRICELESS

Published on Jan 27, 2016
Full credit for this BUST of "militia" in Oregon getting asked to sign Talent Release. One of them runs to shut off the live feed but too late, they are busted! Full credit for this bust goes to patriot James Farganne
https://www.facebook.com/mustard.strong
So how much of the action in Oregon is staged by Feds?
This lifestream came from Youtube Channel
DefendYourBase so all these guys need to be investigated.
James Farganne reported he witnessed these "militia" guys on this channel being very nasty and bashing Christian patriots. They also talked about shooting Feds which is usually a telltale sign of a Fed run operation! Spread this video EVERYWHERE!
Stew Webb Radio Network
Listen Live
Breaking News
http://www.stewwebb.com
Listen live by phone
712-775-8269
federalwhistleblower@gmail.com