IRAN WAR EXPOSE: What U.S. Media DOES NOT want you to see!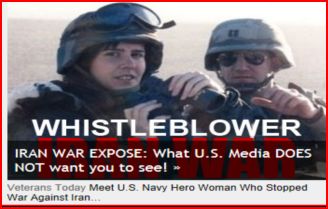 Meet the Woman Who Stopped War Against Iran
The Story of Gwenyth Todd, Editorial Board Member, Veterans Today
Press TV's documentary program "Untold Truths" reveals documentary
film about the life and experiences of former White House Middle East
policy adviser, Gwenyth Todd, who has escaped to Australia to keep
safe from FBI prosecution.
 Click on Link to mread full story:
http://www.veteranstoday.com/2013/02/04/iran-war-expose-what-u-s-media-does-not-want-you-to-see/
Bush Era Navy Complicit in Terror and Assassination

http://www.youtube.com/watch?v=5-DY6MDk5-Q&list=UUaMH8-gD-ZYyC93vY6GlnCQ&index=48
 Romney delivering illegal drug accounts to Leonard Millman in Cuba. (Stew Webb's ex-in-law)  Millman faked his death in 2004 and fled to Cuba.
Listen to interview of Veterans Today Editor Gordon Duff and Stew Webb
Talking about Gwenyth Todd and also Mitt Romney's Cuban mistress.
http://www.veteranstoday.com/2012/12/09/gordon-duff-interview-3-hour-marathon-video/
Whistleblowers US Intel Breaking News
Now on Computers, Mobile and Tablets
http://www.stewwebb.com
http://www.veteranstoday.com/author/swebb
Stew Webb Founder:
You did not Vote them in but you can remove them!
http://www.recallpetitions.com
June 2013 Fund Raiser
https://fundrazr.com/campaigns/aW6Hd