Larry "pull it" Silverstein builds ANOTHER tower!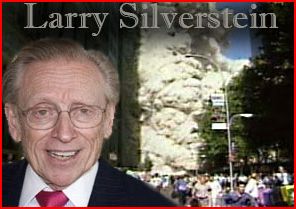 Larry Silverstein – the rumored organized crime figure who struck it rich on September 11th, 2001 – used his 9/11 insurance windfall to seize control of Chicago's Sears Tower, and to rebuild the condemned-for-asbestos World Trade Center with its Orwellian "Freedom Tower." He also rebuilt World Trade Center 7 – the building that he himself admittedly demolished.
Silverstein's confession to demolishing WTC-7 did not stop him from grabbing a $700-million-dollar insurance payout for the "tragic loss" of that building due to an alleged "terrorist attack" that made the 47-story WTC-7 fall straight down in 6.5 seconds from a few tiny office fires. By grabbing three-quarters-of-a-billion-dollars insurance money on the building he confessed to demolishing himself, Larry Silverstein defined the word "chutzpah" once and for all time.
And now, "Lucky Larry" wants more skyscrapers.
According to Business Week, Silverstein has announced plans to build an 82-story hotel and condominium tower one block north of the World Trade Center. Construction is scheduled to start later this year.
The Business Week article notes: "(Silverstein) leased the twin towers for 99 years six weeks before they were destroyed in the 2001 terrorist attacks." (Emphasis mine.) But the article fails to mention the relevant background:
*The high-vacancy, antiquated-infrastructure Twin Towers were a huge money-loser for the City of New York, which was under court order to do asbestos abatement. The price tag could have reached the double-digit billions – far more than the Towers were worth.
 Click on link below to read full report:
http://www.veteranstoday.com/2013/05/16/larry-tower/
Whistleblowers US Intel Breaking News
Now on Computers, Mobile and Tablets
http://www.stewwebb.com
http://www.veteranstoday.com/author/swebb